SALSANEWYORK CYBER-INTERVIEW: NYDIA OCASIO
-by Manny Siverio
Originally published on SalsaNewYork on 1/02
Photos courtesy from NydiaOcasio.com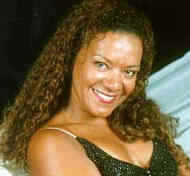 This month we interview NY Mambo Instructor & Performer Nydia Ocasio. Nydia has been around the NY Mambo scene for many years. Well known for her old school mambo, she usually doesn't get the amount of publicity that others like her do. This cyber-interview was done a while ago and somewhat overdo. After having it filed on the SalsaNewYork waiting list, her number finally came up. Its with great pleasure that we present her interview to the SalsaNewYork readership. -Manny

Nydia Ocasio Cyber-Interview


SNY: How long have you been dancing mambo and what got you into it?
Nydia: I've been dancing to Latin music (salsa, cha-cha, etc) from the age of 16, with the sounds of Tito Rodriguez, Gran Combo, La Lupe, Tito Puente and Celia Cruz, Johnny Pacheco to name a few. However, I've l been listening to the Latin music much earlier than that when my parents would have their house parties...I got more involve in dancing in my earlier years in school...and took it to the clubs. The Corso was one of the many Latin clubs out there that I performed and choreographed for a group called "The Latin Symbolics, directed by the late George Vascones, back in the early 70s. In 1973, I was doing theater work with a Puerto Rican theater group. Also performed with a Puerto Rican & AfroCuban folkloric companies. The rest is history.
SNY: Where did you originally learn how to dance mambo and who was (were)
your mentors?
Nydia: In the Latin nights clubs in the City and practicing with friends. Over, and over again :-)...until we got it right. There were no dance studio to my knowledge that we knew of at that time. so we did the best we could and dared to taking to dance floor. As for my mentors, Heny Alvarez, a musician, singer, dancer of the Puerto Rican Culture, Xiomara Rodriguez, an AfroCuban dancer and the late George Vascones, the best Latin and Hustle dancer and in my book, still is! In my years in this field, no one has come close to George's style. He was in his own catagory, Excellence!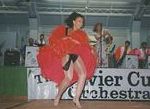 SNY: How long have you been teaching mambo and what made you decide to teach mambo?
Nydia: I have been teaching as well as performing Latin and Caribbean Folkloric music, among other ethnic dances for more than 15-20 years with various dance troupes (Latin/AfroCuban/Puerto Rican Folklore and Samba/Candumble from Brazil). I decided to teach when I had the necessary dance experience and training required. Just knowing salsa or Son Montuno (aka mambo), does not merit one a dance instructor. Its a lot more than 1 -2-3--5-6-7! What made me decide to teach is to be able to pass on the true knowledge and understanding of Latin dancing and most importantly, its music. Through my years of teaching and performing, I came to realize the younger generation lack knowledge or understanding of what Latin music was really about. They assumed thats its all about fancy footwork and turn patterns...Oh no!...Its much, much more than that. Some "overnight" instant dancers are so busy planning their next turn pattern or fancy footwork that they forget to dance and that they are not dancing alone....and when they finally decide to let go on the dance floor, they look like they're performing as appose to dancing elegantly and sociable. Why? because it wasn't taught to them. I've seen it too many times. If you can't understand the depth of Latin music, you're lost on the floor...Unfortunately, many of them are not aware of that.
SNY: What do you like most about teaching?
Nydia: Watching the students faces beaming with a sense of "God, I finally get it!!! It makes sense to me now". It makes me feel real good about myself and that I have accomplished my goal as a teacher in the art Latin dancing.
SNY: Why do you think people come to learn from you?
Nydia: They have seen me teach or dance and like my method and style of teaching and/or dancing They find it unique and very informative and thats a big plus for them.
SNY: Are most of your students men or women? and why is that?
Nydia: Lately females...only because they've become more daring than men. Some men feel a bit intimidated by a female Instructor. However, I do have my men followers who like my style.....they want to build more on body movement than just fancy steps or a bombardment of turn patterns.
SNY: What is the hardest thing you find about teaching?
Nydia: Teaching those who dance Latin badly!!!. But they turn out to be my best challenge.

SNY: Do you still like to go to clubs and dance socially?
Nydia: Depending on the band or DJ...I dislike crowded places...I prefer El Flamingo...its cozy and usually pulls in good dancers. Im not a drinker so the dancing has to be good!

SNY: Name your favorite on stage performance?
Nydia: There are so many favorites...One of them was with the Cugat's Orch in Japan. But, I did a performance in tribute to Machito at Broadway 2 that was a work of art and a loyal commitment with all involved. It was a great experience.
SNY: What got you into performing and what was your first time on stage?
Nydia: I've always love to dance since I was a child. I was born with this gift and I wanted to share it with the world. My first time on stage was in JHS. The rest is history.
SNY: What did you feel when you first performed live on stage?
Nydia: A sense of utmost FREEDOM, control and one with the music...Its a wonderful experience, especially when you see the audience face beaming and smiling while they watch you dance...thats when you know you've got to them and they are there dancing with you. Its great!

SNY:Have you ever choreographed a routine?
Nydia: Plenty, ranging from Latin/AfroCuban/Bomba-Plena and samba.

SNY: What do you like about being a dance choreographer?
Nydia: Once I hear the music, and how the choreography comes to me right away. Its about bringing the emotion of the routine together first and the steps follow easily behind. The ideas sometimes comes to me very quickly that it takes me by surprise!

SNY: What do you look for in a song when you are putting choreography together for it?
Nydia: The emotion and the story it tells...I combine the 2.

SNY: Have you traveled to teach workshops and seminars? If so where have you gone?
Nydia: I've done and continue to do workshops for various institutions, such as special event gatherings, Universities, Hospitals and Health Clubs here in the States to name a few. Although I have performed outside of the country, didn't have the opportunity to teach. There was no time....never got around to it. Hopefully one day soon.

SNY: What is it that you like about traveling to teach?
Nydia: I enjoy traveling and passing on my knowledge and experience in the art of Latin dancing to those who are willing to learn.

SNY: Which has been your favorite place to teach a workshop?
Nydia: Schools, SOB's and the Mid-Summer Nights Swing at Lincoln Center!

SNY: What is the difference between teaching a regular class and special one-shot
workshop/seminar?
Nydia: Students get more out of a regular class. However, the one-shot brings in new clients.
SNY: Which gives you the best joy? Teaching, performing or putting together choreography?
Nydia: All of the above! :-)

SNY: How is it that you prepare yourself for a workshop? and for a performance?
Nydia: My tapes are important part of my preparation for a workshop. Its deals with very basic rhythm patterns to sociable dance levels.....its important not to confuse the student with complicated Latin music until they understand the development of the rhythm and what to listen. I've come to realize through my years of performing and teaching that patience and tolerance is important to develop before attempting to teach anyone. It makes the process all that much easier for the teacher as well as the student.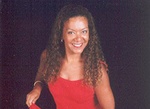 SNY: What advice would you give those just getting into mambo? How can hey work at getting better at dancing?
Nydia: Learn to know what to listen to in the music first, so that the rest becomes easier to understand. Be aware that the body creates the movement and technique of the dance, not your feet or counting your head off.....Counting can be very distracting if its taught in the beginning...Its all they will remember and never get around to listening. The music holds a beat and a count...which the students should be informed about and applied to the lesson.

SNY: How best could you describe your way of dancing? of teaching? and of performing?
Nydia: I've been told that my dancing is an art to watch, elegant and smooth, my teaching, informative, attentative with the students and simplified for better understanding of what they are learning, and my performances, unique, artistic and professional.

SNY: How is New York Mambo Dancing different from mambo dancing in other parts of the country?
Nydia: If you are referring to just mambo or as I prefer calling it Son Montuno or dancing on two, here its taught so many diferent ways, some correctly some not. As for other countries it varies base on their upbringing that country and also it depends on who's doing the teaching.

SNY: Do you think that dancers get treated with respect? If not why?
Nydia: You can't buy respect, you have to earned it. When Latin dancers themselves take their dancing towards a more burlesque or a provocative level as appose to artistic, which is occurring today, then don't expect any respect. This issue I address strongly to women who have allowed themselves to exploit their attributes instead of their talents. Present your talent with pride and dignity and never, ever sell yourself short, cause In the end, you lose.
SNY: What would you like to see happen to mambo within the next few
years?, next decade? within your lifetime?
Nydia: That those wanting to teach or teaching are more knowledgeable in the their craft of a Latin dancing, be informative, experienced professionals with proper teaching skills. There's too many over-night or wannabe teachers out there and the student is the one who ends up paying the price and short changed by a pretender. The word TEACHER says it all.

SNY: What is the best way for someone interested in learning mambo can get in contact with you?
Nydia: My Website www.NydiaOcasio.com or click here for my contact phone numbers.