Editor's Note: Louis Tirado is a NY Based Mambo Instructor and member of the Addie-tude Dance Co. Though this was the Addie-tude Dance Company's Second trip to Zurich (click here to read about their earlier trip), it was Louis's first. Here he shares with us some of his thoughts on the event which members of the Addie-tude team consider to be the best Congress they've experienced to date. - Manny Siverio
My First European Salsa Kongres
- by Louis Tirado
Photo on page - Directly below:
Louis with fellow team members Addie Diaz (director) and Brett McNichols
I've never really given much thought how beneficial it would be to have as many dancers in one room as I did in Switzerland's first congress ever.
There was an anticipation of how well Switzerland's first attempt at a congress would be received. Would the public like it? Would the dancers enjoy themselves?
It didn't take long for those questions to be answered. As a dancer and performer all my expectations were exceeded.
Our first of three performances in Switzerland was approximately 12 hours after I arrived with the dance company I dance with: The Addie-tude Dance Company. The first place we performed at was a club called Extra. Extra was the site of the pre-congress party and it was very specious with a stage and the floor very comfortable to dance on. A few minutes before we came on stage to perform I decide to peek out at the crowd. All I saw was a sea of heads with no end in sight except for the back wall of the club, which was a bar. I definitely thought to myself "Damn this place is packed".
The next following night the congress officially started. The location – the old Congress House of the Swiss Government. A beautiful venue, very spacious and lots of room for dancers and spectators alike. At the back of the stage was a big screen that presented the dancers up close for those who couldn't get close to the stage. The Swiss definitely had comfort and availability in mind when they thought this out.
We chose our Hustler number for our second night. The girls in our group were awesome and Manny Siverio and I definitely worked out any kinks in the number before we got on stage. The number is a bit violent since it is based on two rival gangs facing off. It is for sure a number that the world salsa community has rarely seen and it was well received.
On our third night at the congress our newest number (Muneca) was chosen to close out the show. Our newest number had only been performed in public twice before in the United States to good reviews and we were very anxious to see how the congress would respond to our baby. The congress house was packed! My adrenaline really started to pump after that sight. This crowd really wanted a show, and we were aching to give it to them. We rehearsed these numbers 3, 4, sometimes 5 times a week, late into the night, to get it just right. It was what we prepared for, what we sacrificed for, what we came to Switzerland for.
Photo on page - Directly below:
Louis and Addie-tude Co. Director Addie Diaz (standing) sharing a moment with LA based SalsaBrava at dinner.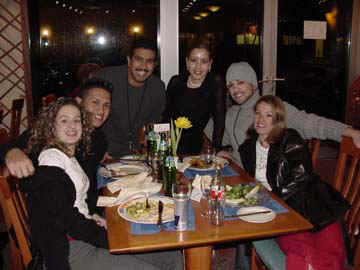 The moment our dance shoes hit the stage we were in perfect sync with each other. The chemistry was great and I felt as if at any point in time on stage I knew exactly what all the dancers on stage were doing at any time. It was a weird feeling of connection without having to touch or see your partner. We were a hit and it is one of my favorite times on stage.
Myself personally, when I'm on stage the music sounds so far away and all I really can hear or feel is my heartbeat. I don't know if it's stage fright but I know that when it's over I can't wait for it to happen again.
There are times in a performance when sometimes things don't go as planned, or as perfect as one would have liked and it happens to the best of us. But what I enjoyed most was the camaraderie of my fellow dancers at the Congress. There is always a little clique going on here and there in every congress but in Switzerland you didn't mind those things. The clique's were there but they lost in every way. The congress in more than an exhibition of the best dancers and dance teams from all over the world, It's also a chance to exchange ideas, tips, information, steal moves, whatever. As dancers we have to grow and I definitely felt a growth spurt those 4 or 5 days.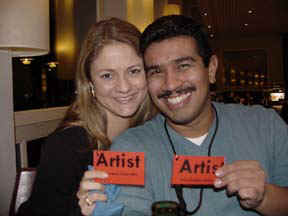 Santo Rico, Leon Rose, Salsa Brava, Pedro Gomez. Edie Lewis, Miriam Ponce De Leon, Juan Carlos, etc, etc, were a joy to be with. We partied, exchanged ideas and gossip late into the night and into the morning and I felt changed by the experience in a good way.
I know that if I were to bump into any of them, it would be as if no time has gone by. Almost like a family; one big dance family.
Click here for more info on Louis Tirado.
[Main Menu ] [Magazine Home ] [New Articles this month ] [Instructors ] [NY Dance News] [Articles] [Submit an Article] [Calendar of Dance Events]
Best Viewed In Internet Explorer