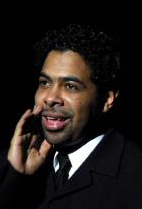 Vittico Pacheco
Photo Courtesy of
Pablo Munoz of Mambon.com

Instructor Stats:
Website

Articles

Dance Company

Social Dance

Studio Directions

Instructional Videos

Children
Compiled by Manny Siverio
Vittico Pacheco "La Magia"

Instructor, performer, choreographer, event host, Vittico is one of New York City's most experienced mambo instructors, with a very dedicated following. The review below was written 10 years ago.
---
INSTRUCTOR REVIEW
(Originally posted on Salsaweb NY on August 1999 - by Manny Siverio)

Vittico Pacheco is a New York Mambo Instructor who teaches out of the Bronx. This Dominican started to learn how to dance when he moved to Puerto Rico (82'-86'), continued to learn while hanging out at Side Street during its heyday and refined his skill when under the guidance of Wilton Beltre who founded the Santo Rico Dance Company (whom he considers his first real instructor and mentor). His school (The Vittico Dance Studio) is located at 2619 Sedgwick Avenue in the Bronx (not too far away from Jimmy's Bronx Café). A fierce mambo dancer known for his creative turn patterns, the Vittico Dance Team has performed in almost every major nightclub in the NYC area. He has been a member of such performance groups like The Santo Rico Dance Company, The Descarga Latina Dance Company, Team New York and The Fuerza Latina Dance Company before moving out on his own. As a dancer he has traveled to such places like California, Puerto Rico, Boston, Philadelphia, Washington, to his beloved Dominican Republic and has participated at events like the 1st Annual Congreso Mundial de la Salsa. Vittico was also co-founder and co-Director of the Salsa Magic Dance Company and his Student Dance Company.
I recently (8/99) visited Vittico's class in the Bronx. Upon arriving at 2619 Sedgwick Avenue, I discovered that it was an apartment building. He has been at this present location for 1½ of the four years he has been teaching mambo (as of 6/99). I was told to walk down the side entrance alleyway which lead me to the building's basement. Once down there, I followed the sound of salsa music to Vittico's actual Dance School. His school is in reality a decent size storage area which had been refurbished into a dance space. It was very clean and "Spartan" in appearance. The entire room had been freshly painted with white paint for the walls and battleship gray for the floor. The space was also equipped with some chairs, a few simple mirrors and a sound system. Like I said "Spartan" in appearance. But I use the word But I use the word "Spartan" with the utmost respect. The atmosphere of the school is very conducive to work and inspires discipline. People that go to Vittico have a no non-sense approach to learning mambo. They go there to work hard, learn from a good instructor and not for the esthetic look of the school (and believe me people get their money's worth). I like to think of his students as "mambo gladiators".
Vittico's class is broken down into two groups. The more advance students (intermediate level) are taught by Vittico, while the raw beginners are led by one of his assistants. The space provides a cement support column which acts as a natural divider between the two groups of students. The first half of the class centers on open floor shines (solo dancing), while the second half deals with partner work (turn patterns). Most of his students speak mainly Spanish, yet all of the shines are broken down in English (1,2,3-5,6,7). He leads his group in a very casual manner, yet maintains his role as task master. Shines are repeated and repeated until he is happy with the overall group performance. Shines are frequently reviewed one-at-a-time, back-to-back (one after the other) or in sequence (in combination). I noticed that everyone is required to count out loud when performing each step. This is Vittico's way of drilling his students. Its an excellent way for to force his students to remember how to break down a step (make them second nature), remember where they are in during the clave and show them how to get in and out of shine.
During the turn pattern segment, Vittico again leads by counting out loud (the others count along with him), only stopping to give important pointers during key moments of the turn. He drills the hell out of a turn pattern to make sure that students get it. Students are rotated from partner to partner so that everyone can get a chance to work everyone else. When a 2nd pattern is taught, it normally is designed to flow right after the first patten. This way, the more advanced students are challenged with a larger combination, while the lesser advanced students can still practice the material taught to them as two separate turn patterns. You can tell that Vittico's students are into his turns because they can seen practicing them very enthusiastically after class.
Vittico's Style in a nutshell:
If I were to compare Vittico Pacheco's style of mambo dancing to other instructors, I would say that he as a very energetic and creative Bronx Street Style of dancing; filled with unexpected turns, multiple spins, hand changes, counter spins and sometimes even unique arm movements. If you catch him on the dance floor, you can almost see the gears turning in his head as he begins to mess around with an idea of a turn pattern. You can watch him test and discard ideas until he produces something that he likes. The man uses the floor like a "dance laboratory". So if your looking for something different in your turn patterns, then Vittico Pacheco may be the instructor for you.
---
The review above was written 10 years ago, a testament to Vittico's long experience as a New York instructor. He has continued to develop and refine his teaching and class methods. He is much respected in the mambo community for his unique approach and authentic Latino style of dancing mambo.

Vittico is currently available to teach private classes. Those interested should contact him directly to discuss fees and scheduling.
Vittico mainly caters to an adult mambo student crowd.
Vittico Pacheco


Vittico Dance Studio
Over the years, Vittico's classes move around from place to place and that is part of his mystery and attraction, along with his fascinating and unique style of dancing. It is always best to call to locate his current class location. The search will be well-worth the effort.

As of May 2009, Vittico is teaching at Hermandad Quisqueyana, 3950 10th Avenue (between 211th & 212th Streets), in the Inwood section of upper Manhattan. Subways: #1 train to 207th Street Station. A few blocks farther away is the 207th Street Station of the A train. Broadway busses let you off nearby also.

$10 for ladies and $15 for men.

Classes are subject to change without notice
it is always a good idea to confirm classes or clubs before heading out
Subways: #1 train to 207th Street Station. A few blocks farther away is the 207th Street Station of the A train. Broadway busses let you off nearby also.


NYC Transit : NYC Public Transit Authority Website which supplies you info on train/bus routes, transportation, etc.

Mapquest.com : Map/direction providing website for those using their own vehicles to get to class location.
Yahoo.com: This is the link to the Yahoo maps starting page. According to Steve Shaw, it may be the better of the two Map websites.