Except from New York Times
(4/4/00 Sunday Edition) Lead Article for Metro Section
pages B1 & B2
The Metro Section
The New York Times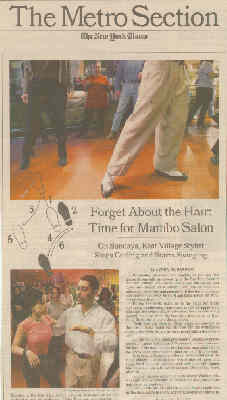 Caption for bottom photo:
Mambo at the Ene Hair Salon, Frankie Martinez, above, the instructor, and his girlfriend, Aisha Koswara, a hairstylist.
Forget About the Hair:
Time for Mambo Salon
On Sundays, East Village Stylist
Stops Curling and Starts Swinging
By Lynda Richardson
By Sunday afternoon, the ringlets of cut hair and traces of ponytails are swept up at the Ene Hair Salon in the East Village. The swivel chairs and the bubble hair dryer are tucked in a corner. But jars of aqua-blue Barbicide, hairspray and pomade still line the counters as men and women sway forward and back across the winered plywood floor.
During the week, many go to the salon for trims, highlights, conditioning treatments, maybe an upper body massage. But come Sunday afternoon, they are infected by mambo madness when the basement-level salon on East Ninth Street turns into a dance palace.
Their hips are rotating. Their arms coil upward as they twirl. Some count out the beat for the syncopated steps under their breath as they plunge into a dip, then a spin
All the while, the salon proprietor's Pekingese poodle terrier Virginia (nicknamed Peekapoo), weaves between the legs of mambo dancers, barking appreciatively at the Afro-Cuban melodies that float out onto the sidewalk.
It is easy to become indifferent to the oddities of the East Village, a neighborhood where pierced noses and spiky dyed hair are common and boutiques with names like Religious Sex sell leather corsets. This is New York, after all.
And yet there is something particularly off-kitter, like a campy John Walters film. To the mambo scene at the Ene Hair Salon on Sundays.
Even as the Chorus lines on more than a dozen people heat up the floor, elbow to elbow, a few frazzled people amble in, eager to make appointments for haircuts and colorings, And on a recent Sunday, an aggressive salesman blustered through the door, insisting on giving his sales pitch for an electronics product to the salon owner.
"Don't you see we're dancing, man," said the annoyed proprietor, Nelson Barreto, who was trying to maneuver a mambo turn.
"I came a long way," huffed the indignant salesman, glaring over his shoulder on his way out.
More often than not, though, passers-by find themselves stopping in their tracks on the sidewalk, peering inside the bay window of the Ene Salon. The place is hard to miss. Its lavender-painted facade has a window graced with a two-foot-high statue of a praying angel, with a container of hair gel stuck between ots wings.(The salon gets its name, Ene, from the Spanish pronounciation of the letter n (EN-eh), the initial of the owner's first name.)
The mambo tradition, if it can be called one yet, began about two months ago when Mr. Barreto agreed to let the dance instructor boyfriend of one of his hairstylists hold classes there.
"We wanted to do something else we hadn't done before," said Mr. Barreto, a 35-year-old native of Puerto Rico. He lives in a fifth-floor walk-up next door. "We're given license to make you feel beautiful and music is an addition to that."
Classes began with a handful of clients on the salon's mailing list, but the mambo sessions have grown exponentially as clients have told their friends. Like the homey salon, which resembles an eccentric aunt's living room with its glided mirrors, vintage furniture and bric-a-brac, the $15 classes draw a multicultural crowd, all tantalized by Latin rhythms.
It is not quite the Palladium in Midtown Manhattan, the legendary Latin ballroom that was ground zero for the mambo in the 1950's when it was the most popular dance craze in the Western world. But the salon has created its own special comfort zone.
"People feel like they know us," Mr. Barreto said. "It's less threatening than going to a club or a huge class, where people know how to dance. Some don't want people to know they have two left feet."
Laura Nuss-Caneda, a 37-year-pld public school teacher from Brooklyn, has her long reddish-brown hair colored at the salon. But on Sundays, she is accompanied by her Mexican-born husband, Rene, a Spanish-language tutor. She appreciates the diversity of the salon as much as learning the mambo.
"You have to work hard to find communities that are different," she said. This is a way that we can do that."
The other Sunday, it was getting steamy inside the salon so the door was left open to let in cool air. The customers were learning a beginner's step, the right foot crossing over the keft foot as hips twist and swivel on three beats. The instructor, Frankie Martinez, calls it the "Suzy-Q," because the step feels the way it sounds as the hips twist, twist, twist.
Mr. Martinez, a trimly built 24-year-old with a goatee, learned the mambo from his mentor, Eddie Torres, a leading New York mambo teacher who has a professional dance troupe. Mr. Martinez is a member. The mambo is the original version of the popular dance called the salsa, but it is danced on a different time structure.
It is evident in the salon that some customers will never advance to what might be called the mambo's black belt, an intricate pattern of quick steps that is sort of skating with the feet. Mr. Torres calls it the "syncopated jelly jam, a little dab will do you." (Don't even ask!)
________________
A Stylist trades curling for full body twirling.
________________
But the instructor, who was dressed the other day in a billowy white shirt, cream-colored pants and black and white dance shoes, remained consistently upbeat.
"You mambo divas, you," Mr. Martinez called out, his dimples deepening as the dancers laughed. They snapped their fingers to find the driving beat when the instructor turned on the tape player. And as the two hour session melted away, they stopped glancing at their feet so much, undulating confidently.
Among the salon's most loyal customers is Toni Castillo, a petite 51-year-old who gets golden highlights on her textured bob. Now, the Queens resident is also a regular on Sunnday, hauling in her grim-faced boyfriend, Carlos Flores. He was stuck the other day on a move with his back facing Ms. Castillo, Mr. Flores had to drop his partner's hand down his back and lightly catch it with the opposite hand.
Ms. Catillo, wearing jeans and black stiletto heels, giggled that her 45-year-old boyfriend told her that she should get a leg transplant to improve her moves. She does not mind that he pokes fun at her.
"We come in every single Sunday," she said merrily. "Its been beautiful."
As dusk fell on a recent Sunday, the mambo instructor's girlfriend, Aisha Koswara, sat quietly next to a row of deep sinks for shampooing. She was engrossed, listening to a woman who had wandered in off the street. The woman, Ann Schwanke, owns a lingerie import business abd spoke to Ms. Koswara about feeling a bit psychic. Not even five minutes before, she said she was thinking about Latin dance lessons - then there was the mambo class.
"I saw something going on in the hair salon that was not hair," said Ms. Schwanke, who began displaying silken lingerie from a bag to Ms. Koswara in hopes of collaborating on a lingerie mambo party.
On occasion, Ms. Koswara, a svelte 22-year-old with a pierced diamond stud in her nose, joined her boyfriend, Mr. Martinez, on the dance floor to give a dazzling demostration of the tricky step. The class watched the couple's liquid moves in silence before bursting in applause.
It was the hairstylist's idea to have mambo classes at the salon. She saw nothing unusual in it. She noted how her Puerto Rican mother met her father, newly arrived in New York from Indoesia, in an underground gambling den in the neighborhood.
"Everything happens in the Village," she said with a nonchalant shrug.
---
Additional Note from SalsaNewYork:
Click here If you are interested in getting more info on Frankie Martinez
[Main Menu ] [Magazine Home ] [New Articles this month ] [Instructors ] [NY Dance News] [Articles] [Submit an Article] [Calendar of Dance Events]
Best Viewed In Internet Explorer