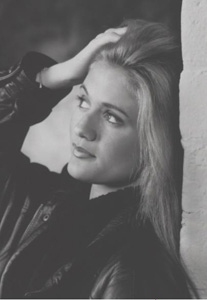 Cyber-Interview of the Month:
Brett McNichols
-by Manny Siverio
Originally published on SalsaNewYork on 7/02
This Month we interview NY Mambo Performer and Instructor Brett McNichols. Brett has been involved in one dance form or another since her childhood. In the short amount of time she has been involved in the New York Dance Scene; she has taught workshops in Washington-DC, performed in the West Coast Salsa Congress, the East Coast Salsa Congress, 1st Annual Zurick-Switzerland Salsa Kongress and the 1st Annual DR Salsa Congress. Brett is currently a member of Addie Diaz's Addie-tude Dance Company. She has recently been added to SalsaNewYork's Online Directory of On2 Instructors.
Cyber-Interview: Brett McNichols
SNY: How long have you been dancing mambo and what got you into it?

BM: I've been dancing mambo formally since December 1999 when I took my first class at Dance Manhattan in NYC. Before that I would dance mambo socially at nightclubs throughout the city and Westchester, and at family parties. I always loved Latin music, but the advanced dancers I would see in clubs throughout the city intimidated me. I started going to Latin clubs back in like, 1994, and whenever the D.J. would play Salsa, the dance floor would clear and only a few couples would dance, and I would just stand there and watch... I was in awe of the beauty and detail of mambo dancing. That really made me determined to learn this form of dancing. I was truly impressed by the intricate turn patterns and the rhythm of the music. Little by little, I would inch my way onto the dance floor and dance with whoever would ask, and every time I would social dance, I would learn something new. Then it got to the point where I felt frustrated with my stagnant level of dancing, and decided it was time to enroll in dance classes to really increase my knowledge of mambo dancing in a formal atmosphere.
SNY: Where did you originally learn how to dance mambo and who was (were)
your mentors?

BM: My first formal dance class in mambo was at Dance Manhattan with Eleanor Lopez. I remember the very first class... I went out that day and bought new dance shoes, and by the end of the class my feet were killing me!! I still remember the shines we learned and even my first cross body lead!! I remember thinking that one inside turn was the hardest thing to do in mambo!!! Eleanor was an excellent instructor, she was tough, but she made sure you did everything correct!! At the time, Eleanor was teaching on the 234, 678 timing, so I decided to try classes that taught on the 123, 567 timing. The following summer of 2000, I started going to "on 2" social events, and taking classes with Addie Diaz and with Thomas Guerrero at Santo Rico Dance School. I learned a great deal of shines, turn patterns and ladies spinning/styling in these classes.
In November of 2000 Addie Diaz invited me to join her dance company. This was an excellent opportunity for me to improve as a dancer. Addie is truly my first mentor who really taught me everything I know (good and bad) about being a professional dancer. I think that if I hadn't joined the Addie-Tude Dance Company, I wouldn't be the dancer I am today... I have received exceptional training and valuable techniques working with Addie.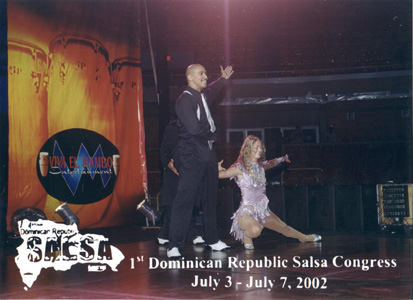 SNY: How long have you been teaching mambo and what made you decide to teach

mambo?


BM: Compared to others, I've only been teaching mambo for a short period of time. I would love to expand in this area of my dancing career because I love to help people who want to learn this form of dancing. I remember how I felt when I was first starting out, and I can see the same determination in the eyes of other dancers when they are learning their first mambo steps! I originally taught ballet to young children in Westchester for a couple of years, and I really enjoyed it. Teaching any form of dance really gives you the opportunity to master that form of dance as well.... when students ask you questions, you think of details that you may have passed over before, and you really improve as a dancer yourself.

SNY: What do you like most about teaching?


BM:

I think the best part of teaching someone is when you see a student improve right before your eyes. Some students are insecure and don't think that they will ever "get" a move or concept, and when the finally succeed, you get this amazing sense of accomplishment as a teacher.

Another benefit about teaching is that you always learn more about what you're teaching while you are explaining it to a group of people. You become the master of that shine or technique!!

Sometimes a student will ask a question that you never would have thought of, and as you're explaining the technique in detail you think to yourself "wow, that's a good point! I should try that some time.!" No, but seriously, it is an excellent learning experience for both the student and the teacher.

SNY: Why do you think people come to learn from you?


BM:

When I went to DC to teach a ladies styling/spinning workshop, a lot of people came simply because I was a female "on 2" dancer from New York City, and a member of the Addie-tude Dance Company!!! I know in DC there really isn't an abundance of on 2 classes, so I took advantage of the opportunity that awaited me!

SNY: What is the hardest thing you find about teaching?


BM:

I think the most frustrating part of teaching is when you are teaching a large group of students and half of them are picking up really fast, and the other half is totally lost. It's hard to please everyone, but you have to really get a feel for the overall level of a group. It's always important to give each person individual attention, and to make sure that no one feels frustrated or incompetent. You don't want to intimidate people who are not very advanced and need a lot of repetition, and you don't want to slow down the people who are looking to learn more. I also find it challenging when a student is not very determined and gives up easily. it's hard to get some people to "come out of their shells" and just dance! One of the most common questions I've heard from beginners is.." How long is it going to take for me to get really good at this?" The answer to this question totally depends on the student and how determined they truly are. If a student only comes to class once a week, they're not going to improve that quickly. It's important to practice at home in front of a mirror, and to go out to clubs and social dance!!! I hate to discourage new students, but if they don't dedicate the time, they're really not going to notice fast improvement.

SNY: Do you still like to go to clubs and dance socially?


BM:

Of course!! I love to social dance.. The only thing that prevents me from social dancing more often is lack of time!!!! It's hard to balance rehearsals, and work etc....

I really enjoy dancing at clubs and social events where there are good "on 2" dancers, or better yet, to go out with a group of people that I enjoy dancing with, that always ends up being a great time out.... and a late night!! When I first started taking classes at Dance Manhattan, I made friends with a group of students there who I used to go out social dancing with all the time. It was the best, we would go to class, and then go out to the Copa or Latin Quarters right after class and practice what we had just learned! Those were the days!! One of the best feelings when you go out social dancing is when a complete stranger approaches you and compliments your dancing, and they're really sincere about it. It really gives you a great sense of accomplishment... I always think back to when I used to stand on the sidelines and watch someone dance... I would always approach them and tell them how much I admired their dancing. It's even a greater sense of accomplishment then hearing an audience applaud for you... sometimes I get the feeling that applause is obligatory during a performance. When someone goes out of their way to tell you how much they enjoy watching you dance... that is a genuine expression of their appreciation.

SNY: How about performing? Do you still perform and whom have you performed




for or with?
BM: Yes, I currently perform with the Addie-Tude Dance Company. I love to perform.. It is the best feeling when you can share your performances with your friends and family. Performing is truly the best way to express yourself as a dancer, and to showcase all of your hard work and training!

SNY: Name your favorite on stage performance?


BM:

My favorite on stage performance, in terms of actually performing a number would have to be "Muncea" with Addie-Tude. It is really a challenging number to perform, but it is very theatrical and involves many different styles of choreography, so it is a lot of fun... plus I get to wear wings on my back!!!

SNY: What got you into performing and what was your first time on stage?


BM:

I first began performing Ballet on stage at the age of 4 years old!! (Not that I remember much from my first performance!!) But I always enjoyed the thrill of learning choreography and performing as a child, and continued to perform in annual ballet recitals until I was 19 years old. My first Mambo performance was at Dance Manhattan, and it was a small group of students who performed a short choreography (by Eleanor Lopez) at the Christmas showcase/guest night. It was a little nerve wracking, but we did a good job. It was a great feeling to perform in front of a large audience again.. it made me realize how much I loved performing.

SNY: What did you feel when you first performed live on stage?


BM:

I think that I still get that same feeling every time I perform live on stage... it's that bittersweet feeling of nervous excitement. I always loved that! (And still do!) I always feel kind of relieved after a successful performance, but at the same time I am a little melancholy because all the anticipation and hard work is gone after such a short performance! I immediately begin looking forward to my next scheduled performance!

SNY: What is it that you like about traveling to teach?


BM:

I really enjoyed meeting new people and getting the feel of the mambo scene in another major U.S. city. Most of the students came to the workshop with little information about me, just the urge to meet a new instructor and see what I had to offer them. It was a very successful weekend.

SNY: What is the difference between teaching a regular class and special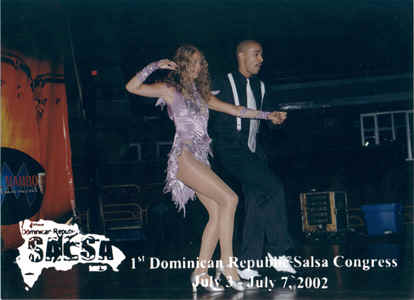 one-shot workshop/seminar?


BM: I have assisted Addie Diaz in her classes a few times and taught a few private lessons and taught a few "gig" type group classes, but in comparison to the workshop I taught, it is a lot more pressure when teaching a workshop because people are expecting to get more out of a workshop. Most workshops focus on a certain aspect of dancing, and are usually longer than the average class. You can also be more specific when teaching a workshop... regarding the level of the workshop and what form of dancing you will focus on. I also think that there is more detailed preparation involved in orchestrating a successful workshop.

SNY: Which gives you the best joy? Teaching, performing or putting together


choreography?
BM:

Performing is my passion, but I also enjoy teaching, because you are sharing your knowledge and patience to others who want reach that same level of dancing that you are on. I feel like it's your duty as an advanced dancer to offer your expertise to beginner students because once upon a time everyone was a beginner and you have become the dancer you are because someone took the time out to help train and perfect you as a dancer, so why not return that same favor to the next generation?

SNY: How is it that you prepare yourself for a workshop? and for a

performance?


BM:

Preparation for a performance is a little bit easier because there is a set choreography that just requires repetition and perfection. When I am learning a new choreography, one of the best exercises to memorize the steps is to write down the sequence and keep repeating it in your mind. I used to do this with new shines or turn patterns that I would learn in a class. After writing down the choreography, you can go over it while riding the train, before you go to sleep, wherever!! Just as long as you keep repeating the sequence of the choreography in your mind the rest will come naturally. Then of course, when you have the time (and the space) you have to practice as much as you can! I have been guilty of practicing in the conference rooms at my job when I really need to memorize a new step!!!!!

Preparing for a workshop requires more time and thought. You have to almost choreograph what you are going to teach and make certain that you know that choreography backwards and forwards before you attempt to break it down to a room full of people!!! When I taught the workshop in DC I first consulted with Addie Diaz and got a lot of little tips and pointers on teaching a successful workshop. I typed up a list of shines that I was teaching, and gave copies to all of the students. I also prepared a detailed list of techniques that I went over with the class while teaching them. This way the students have something to take home with them that always works better then trying to remember what you learned a week later!!

SNY: What advice would you give those just getting into mambo? How can they

work at getting

better at dancing?
BM: For those who are just getting into mambo, congratulations! You have made the decision to commit to learning something that sparks your interest. Some people take mambo classes for a small part-time hobby, and others have that burning desire to be the best that they can be. You have to remember that in order to reach your goals, you really have to work hard, be focused and dedicate a reasonable amount of time to your endeavors. This advice goes with anything you are attempting to learn. If you go to class once a week and never social dance or practice at home, it's going to take you triple the amount of time to really learn to dance than it takes the person who goes to two classes a week, and social dances regularly and practices at home. If you don't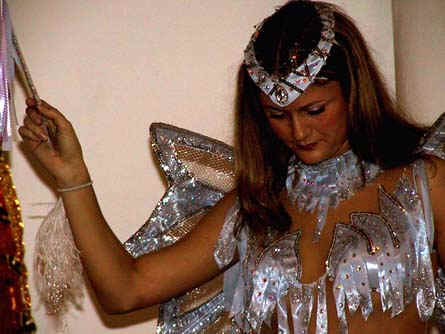 really love dancing, and don't have that burning desire to improve, then you are not ready to take on the challenge of becoming an excellent dancer. Always be open to criticism, and realize that even your instructor was once in your "beginner" shoes!!! That's why I don't understand the egos that some dancers develop as they become professional dancers... no one became the dancer they are by some sort of divine intervention!!! I mean, everyone took their first basic steps and struggled to learn the most basic shines at some point in their dancing career!! Who are they kidding????!!!!! Although some people may "pick up" faster than others, or have a natural talent for dancing, there is no need to ever be cocky or have a "know it all" attitude!

One of my favorite "Dancing" quotes is the following:

GREAT DANCERS ARE NOT GREAT BECAUSE OF THEIR TECHNIQUE, THEY ARE GREAT BECAUSE OF THEIR PASSION" --MARTHA GRAHAM

SNY: How best could you describe your way of dancing? of teaching? and of

performing?


BM:

Hmmmm, let's see, it's always fun to analyze yourself without being critical, cocky or too modest... ha ha

Dancing: I would describe my "way" of dancing as sexy but with class and style... you don't want to over do it!!! Whenever I social dance, I always try to smile and let the world know that right now... at this very moment, I am doing what I love to do, I'm experiencing my passion, and no one can ever take that away from me.

Teaching: I love to teach and I will always offer any student of mine patience and understanding, especially if they are willing to work hard and be focused, I will give my all to try and improve someone as a dancer, and I will never doubt the potential of anyone.

Performing: In regards to performing, I have the same point of view as social dancing HAVE A GOOD TIME... and let it show! I always make a point to SMILE!!!!

Even if your feet are killing you, your costume is too tight, and the crowd is difficult or intimidating... if you can convey a sense of happiness to the audience... even if it's fabricated.. you will be someone that everyone loves to see perform.

SNY: How is New York Mambo Dancing different from mambo dancing in other

parts of the country?
BM: I think the advantage that New York has over other parts of the country is the fact that our city is one of the most populated cities in the country, so we totally benefit by having such an immense mambo community. When you visit other cities, there are usually only one or two clubs that play a good deal of salsa, and entertain a small group of quality dancers. Mambo dancing doesn't only exist in Manhattan, you can find great mambo clubs and dancers in all of the 5 boroughs of New York and in Westchester County, New Jersey and Connecticut. So our options are abundant with a wide variety of venues in which we can enjoy mambo dancing. The dancing in New York has a lot of flavor and passion that I don't seem to find in other parts of the country. I guess it is the direct product of a city that is a true melting pot of cultures and history.

SNY: Do you think that dancers get treated with respect? If not why?


BM:

think that for the most part, dancers are well respected within any true dancing community. Fellow dancers will always respect and praise the hard work of any dancer, no matter what form of dance they are pursuing. But in the business world of dancing, it is more difficult to achieve a genuine level of respect from your peers or clients because they have no idea how much work and time is invested in preparing for a performance. For example, when most people want to hire dancers, they may think that $150 is a huge price to pay per dancer when they are only putting on a 15 minute show, but they fail to recognize the fact that the dancers have been investing hours and weeks of rehearsals and costume fittings for a mere "15 minute" show. This is where the dancers are not given the level of respect that they deserve. I guess it truly depends on the venue and people you are dealing with. Sometimes dancers are treated like stars, and other times they are treated as the "hired help".

SNY: What would you like to see happen to mambo within the next few years?,


next decade? within

your lifetime?


BM:

In the next few years, I hope that Mambo continues to grow and remains a dance form that is enjoyed by millions of people. I think that in the last few years Mambo has really "taken off" with the whole "Latin explosion" crossover in the general public. I hope that Mambo and Latin culture as a whole continue to be recognized and sought after by inquiring minds. In the next decade it would be ideal if Mambo dancing became as common as any other form of dance with a growth of dance classes and schools, nightclubs, and on Broadway!!!

Within my lifetime, I expect to continue to be an active mambo dancer for as long as my feet will allow it!! I just hope that mambo will continue to be around long enough for my children and grandchildren to enjoy it! I think that future generations will keep the legend of Mambo alive and that it will be around for a while!

SNY: What is the best way for someone interested in learning mambo can get in contact with you?


Click here for Brett's current contact info.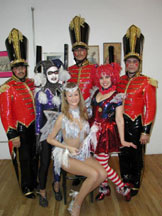 Brett (center) as the fairy
in the Addie-tude Dance Company's
Muneca dance number.
Photo courtesy of Mambon2.com
[Main Menu ] [Magazine Home ] [New Articles this month ] [Instructors ] [NY Dance News] [Articles]
[Submit an Article] [Calendar of Dance Events]
Best Viewed In Internet Explorer