SALSANEWYORK CYBER-INTERVIEW: Frankie Martinez
-by Manny Siverio
Originally published on SalsaNewYork on 4/01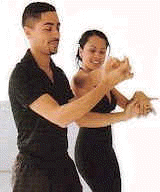 This month we interview NY Mambo Instructor, Dance Company Director, Performer, Latin Madness cast member and New Kid on the block Frankie Martinez. - Manny

SNY: How long have you been dancing mambo and what got you into it?
FM: I have been dancing Mambo since 1996 and curiosity got me into it when I visited a nightclub in Florida with my father for the first time. I decided that I could do that as well or better than the dancers on the floor. It was just a whim.

SNY: Where did you originally learn how to dance mambo and who was (were) your mentors?
FM: I learned Mambo at the Dance Club International on Metropolitan Avenue in Queens, a Ballroom Dance School. They didn't offer much when it came to Mambo and so I started to visit nightclubs in the City and picked up quickly by looking at the dancers. I would then sort of "improvised" my own moves. I later started visiting schools in the City and decided to start lessons with Eddie Torres. My Mentors have been many, including Eddie Torres; I can't deny anyone I have come in contact with during my Mambo years the gratitude for their kind and not so kind words which have brought me to where I am today.

SNY: How long have you been teaching mambo and what made you decide to teach mambo?
FM: I have been teaching since 1997 and started with ballroom (Mambo) dancing. Teaching has always been in my blood. It is the easiest thing I know how to do. I was confronted and pursued by dancers to teach them my way of dancing. I had a large following of dancers waiting for me to start teaching privates. I left a career behind to better my dancing because I feel a strong need to perfect everything I do. I have always been praised for my teaching methods, my understanding and my patience but also because through my hard work and incessant energy I drive dancers to realize their best.

SNY: What is it like to learn a choreographed routine?
FM: It is easy for me to learn others choreography because I understand what they want immediately and I envision a finish routine before I start. I become one mind with the teacher and go one step better to make their choreography shine. I find it very easy indeed to learn from others.

SNY: What is it like to travel as a performer? What do you like best about it?
FM: I Like the euphoria of an entertainer, the expectation of something big about to happen. It all starts on that plane. Traveling is fun and exciting but with organization and a previous plan of action. Unification and respect among dancers is most important otherwise it can be messy, tiring and boring.

SNY: Name some of your performances
July 1999 – July 2000: World Salsa Congress, San Juan, P.R.

June 2000 - Manhattan Center with Tito Puente – stage dancing

April 2000 - 3 Day Mambo/Salsa Tour of Italy – Milan, Brecia and Bologna

November 1999 - Tito Puente Music Video – "Mambo Birdland"

May 1999 - SALSAWEB Dance Conference in Washington D.C.

May 1999 - New York World Salsa Congress – Manhattan Center

September 1999 - Los Angeles Palladium – with FANIA ALLSTARS Memorial Concert for "Anibal Vasquez".

October 1998 - Roseland

Sept. 5, 1997 - Madison Square Garden – "Concierto del Amor"
SNY: Which bands have you performed with on stage?
FM: Tito Puente, Jose Alberto "El Canario"
SNY: What got you into performing and what was your first time on stage?
FM: I performed for large audiences at the Dance Club International during their "get-togethers" and choreographed all my routines. I was first on a stage Mambo dancing when Eddie Torres asked me to join his dancers.
SNY: What groups have you performed with?
FM: Eddie Torres Dancers
.
SNY: What did you feel when you first performed live on stage?
FM: Performing on stage for me is not new. I performed for large audiences all over the United States in Shotokan Karate Competitions. I started Karate at the age of nine and was teaching at the age of 12. I have always felt that it was this body discipline that gave me an edge in the world of dancing. I felt quite uneasy though while on stage dancing Mambo … at first I couldn't get used to the audience screaming and clapping through a performance since you don't see that in Karate. I very quickly adapted, though, and it has become second nature.
SNY: What do you like about being a dance choreographer?
FM: I have an ear for music and I can hear and feel every beat of the drums and Congas. This makes it easy for me to choreograph the steps. It is hard to describe what I see and feel when I hear music, but a stage play is always present in my mind. I never realized that this would one day lead me to choreography. It is hard work because you have to work with a group and make them feel what you feel but I love the challenge of making a dancer feel what I feel and express it through their dance.
SNY: What do you look for in a song when you are putting choreography together for it?
FM: Let me first start by telling you that many years ago I found many albums in my mother's closet and never gave them a second thought (sssh they had little love notes on them). When I started choreographing I went into that closet and pulled out the albums and spent hours just staring at them. I immediately ran to the record shop and purchased CDs of all the albums (Willie Colon, Ray Barreto, Ismael Miranda and …..). I have realized that I prefer old Mambo, Cha Cha Cha and Salsa for my choreography. You can hear the beating of congas and drums clearer and the words more pronounced. Today some music has drowned out the words and it becomes too repetitious. I find that I like to choreograph to a story, a clear thought – a beginning and an end. I don't just like to dance on a stage - there has to be depth and meaning to what I am doing.
SNY: What advice would you give those just getting into mambo? How can they work at getting better at dancing?
FM: I highly recommend that they go into dance with an open mind. They need to first watch quietly, patiently and apply to dance their original freedom of expression through dance which we all process. A good dancer is not learned; you only learn the basic steps and shines. There is something in all of us that comes out through dancing that sets us apart from each other. How we feel music and express it is unique to each one of us. Therefore you need to be true to your feelings and of course practice makes perfect.
SNY: How best could you describe your way of dancing? of teaching? and of performing?
FM: My way of dancing is a mix of basics and instincts applied to modern day music blending yesterday and today.
SNY: I teach with passion and fervor. I want to transform the student in front of me to a copy of me. I want the challenge of teaching from step one to a level of stage performance. I want to say "I did it and I did it well" when I see my students dance.
FM: I perform with clarity of mind always aware that others are also on stage and need space and respect. I perform as an extension of my personality. I have never known any other way of being. The stage, the people, the music and the lights have always been and will always be a part of who I am. I perform with the intent to entertain and tell everyone through my performance that they can also be on stage.
SNY: Do you still like to go to clubs and dance socially?
FM: Believe it or not it has never been my scene. I actually stayed away from the nightlife until the age of 20. I do not drink or smoke and it bothers me to be in that atmosphere. I now perform at Hush or SOB and prefer performing to just hanging around the clubs. I don't like dance competitions and I stay away from the politics and the crowds and prefer being alone most of the time.
SNY: How is New York Mambo dancing different from mambo dancing in other parts of the country?
FM: New York has a rich zest for taking things to the extreme. Mambo is rolling along with the energy and excitement of the City. You don't find this in other States or Countries.
SNY: Do you think that dancers get treated with respect? If not why?
FM: I was shocked when I realized that I would have to take time out of my busy schedule and to top it off pay for my own performances. The day I decided to do this full-time I also decided that no dancer in my Company would ever have to struggle to perform and represent my company without any compensation. In my dance company we have a set of By-Laws and we live by them. We share every penny. If you have happy dancers it will show in their performances. Respect comes from the inside out. No one will respect us if we are too busy trying to pull each other apart within our own dance groups. We need organization from within the dance companies. Respect reflects the way people see us. A change is coming soon but until then we first need to respect each other and then request that the world respect us in return.
SNY: What would you like to see happen to mambo within the next few years?, next decade? within your lifetime?
FM: I want to see Mambo on stage portraying who we are and where we come from. I want us to incorporate yesterday's tunes into today's modern dances. Once Mambo is danced or seen as a modern thing it will lose its value to our younger generations. The Mambo I feel deep in my heart comes from the original basics derived from early Cuba. I want it to stay that way. In the next decade I want to see Mambo transforming dancers all over the world as did "the Twist". In my lifetime I want to see Mambo return to its proper roots, never losing what makes it Mambo in the first place which is culture and history.