Website

Social Dance

Studio Directions

Instructional Videos

Children
Compiled by Manny Siverio
Jimmy Anton

INSTRUCTOR REVIEW
(Originally posted on Salsaweb NY, pre-1999)

Another of New York's premier mambo instructors is Jimmy Anton. Jimmy teaches his unique style of mambo at different places throughout the city. One of his best known spots is over at the Dick Shea studio located at 69 West 14th street NYC 10011. He teaches there several times a week. Classes run 1 hour long and begin with roughly 20 minutes of open shines. After a brief water break Jimmy takes his students through a turn pattern for the remaining portion of the class. Students continuously rotate from partner to partner so that they get a feel of what it is like to try the turn pattern on different partners. Students normally stay for more than one of his classes. The fee for each 1 hour class is $10.00.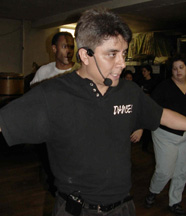 There are several different reasons why I love to go to Jimmy's classes. Not only is he a talented mambo instructor, but he is also a true and sincere friend. This aspect is very evident between Jimmy and his students. Everyone knows that in class Jimmy is the master of his domain, but outside of class he is one of the gang. It is not uncommon for Jimmy and several of his students to socialize after class. I could easily think of 3 to 4 different occasions in recent memory where Jimmy has joined his students during after class social activities. And the beauty of it is that it isn't limited to dancing. There have been several occasions where a group of us (Jimmy included) have gone out to dinner.
Jimmy instills the feeling of friendship and family amongst his student population. I personally can say that they are the most open and social group of mambo students I've encountered in the New York area. They are always willing to extend their friendship to anyone seeking it. I've introduced people to this group and I've never been disappointed. Once you become a friend, phone numbers are exchanged and people keep each other abreast of who is going out when and where. Its the perfect mambo student scenario, where people learning to dance mambo find people to go out to dance and practice with. I've seen deep friendships formed that carry on over to many aspects of city life ranging from theater and movies to dinner and group field trips.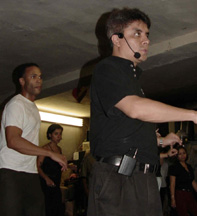 Jimmy's Style in a nutshell
On another note, Jimmy's style of mambo instruction is very unique to watch. If I were to compare him to other instructors, I would say that Jimmy has a very smooth, pleasant and ballroom-ish style of dancing. I for one like it and look to have it complement my very energetic style of dancing. He is a great teacher to have and I highly recommend him. Jimmy is like a master jeweler whose skills refine and polish even the roughest of diamonds. If you have some rough edges, then he is the man to go to.
Jimmy is currently available to teach private classes. Those interested should contact him directly to discuss fees and scheduling.
Jimmy mainly caters to an adult mambo student dance crowd.
Jimmy Anton

Jimmy currently teaches at:
Cap 21 Studios
18 West 18th Street (between 5th and 6th Avenues), 6th Floor
New York, NY 10011

See www.JimmyAnton.com to his up-to-date class schedule and fees

Classes are subject to change without notice
it is always a good idea to confirm classes or clubs before heading out
NYC Transit : NYC Public Transit Authority Website which supplies you info on train/bus routes, transportation, etc.

Mapquest.com : Map/direction providing website for those using their own vehicles to get to class location.
Yahoo.com: This is the link to the Yahoo maps starting page. According to Steve Shaw, it may be the better of the two Map websites.