This article was originally posted on Salsaweb NY in 2000,
and later transferred to www.SalsaNewYork.com by co-host
Manny Siverio. We post it here now for some historical
perspective on New York City's longest running social.
And it's still running today.
---

NY's Longest & Best Social:
Jimmy Anton's Social Dance
-by Manny Siverio - Written in the year 2000.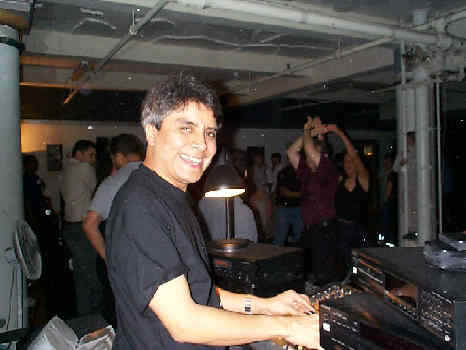 DJ Jimmy Anton @ his Social

Believe or not, one of the hottest dance spots in NYC (in my humble opinion) is not the Copa, Latin Quarters or even Wild Palms, it's Jimmy Anton's Social Dance. Held the 1st and 3rd Sunday of every month between the hours of 5-9 p.m. at the DANCE MANHATTAN Dance Studio located at 39 West 19th Street, NYC 10011. The event is currently in its 7th year (as of February 2000), making it the longest running social dance in NY. If Eddie Torres is the King of NY Mambo dancing, then Jimmy is the King of the NY Social dance scene.
What I love about the place is that it's not a club, just a spot where people who love to dance mambo come to mingle and let loose. Jimmy is well loved and respected in the NY mambo community. He is a laid back and easy going individual who loves to have a good time and he's able to project these same traits into his event. That's why its become the perfect melting pot for many different NY mambo dance cliques. On any given Sunday, it common to find dancers from Jimmy Anton's School mixing it up with students of Eddie Torres, Addie Diaz, Nelson Flores, Razz M' Tazz, Delille Thomas, Ismael Otero or Carlos Koenig. Its also a common hang out spot for the 3 major webzine authors in the NY area - Steve Shaw (SalsaNewyork.com), Fernando LaMadrid (JustSalsa.com) and myself (formally of SalsawebNY, now a part of SalsaNewyork.com) . Many top mambo instructors like Delille Thomas, Carlos Koenig, Addie Diaz, Luis Zegarra, Nelson Flores, Bernard Martinez and Angel Rodriguez have been know to cut up the dance floor there. Just as many professional dancers from some of NY's top dance teams come to hit the spot for an early evening of dancing. Jimmy also periodically has dance teams perform at his socials, such as the Side Street Kids, Young Ambition, Curvas Peligrosas, SalsaBrava, Los Rumberos and Descarga Latina. Jimmy's Social has also become a frequent stop for many out of town salseros who've come to check out the NY salsa/mambo scene. I've personally have met people from Canada, Hong Kong, Japan, London, Italy, DC, LA, SF, Baltimore and Chicago.

Many well known NY Instructors like Addie Diaz (right) and Team Dancer like ex-Eddie Torres Jammer and now Razz M'Tazz dancer Mari-elena First (left), like to go to Jimmy's to let loose on the dance floor.
But Jimmy's Social are not for just for top dancers. It's the perfect stepping stone for those not bold enough to hit the club scene. People come to practice. Usually what happens is that they come, they practice, they mess up, laugh, and go back and try it again. Bottom line, there's no pressure, just fun. The idea is to have a good time. And Like I always say if you're not having FUN then its not worth doing. I like to think of it as a place to be inspired, trade idea, release tension and be at ease. Its an opportunity to do what I call my meditation in motion.....a.k.a. relax. If you're into people watching then it's a great place for you to admire the art of NY mambo dancing or maybe even pick up some moves. Though out of respect for your fellow dancers, easy on the video cameras. Please ask for permission before taping. Think of it as a courtesy to your fellow dancer.
For those of you without a partner, don't worry. The B.Y.O.P (bring your own partner) rule does not apply here. There are plenty of good dancers to go around for all levels. Everyone dances with everyone. It's not a pick up joint, so women don't have to worry about that. And I've never seen a problem occur. I think that everyone is there for only one reason: TO DANCE. So don't be shy to ask someone to out on the dance floor (this goes for you too girls). If you're a good dancer, expect to have your dance card filled quickly.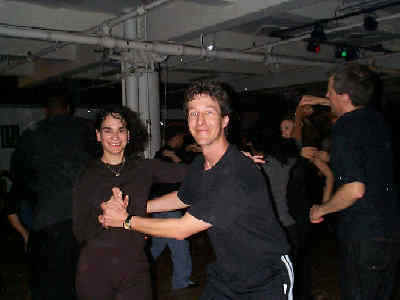 Jimmy's Social is a popular hang out for many in the NY
Mambo Scene
Jimmy's Sunday Social has everything going for it. Its centrally located in NYC, has a huge dance floor that is ideal to dance on and it starts and ends early enough on Sunday so that it doesn't interrupt with your night's sleep. The music is spun by Jimmy himself. That's awesome because only a dancer would know what tunes to play to get your feet itching-to-twitch on the dance floor (some of NY's DJ's are dancers, just think Henry Knowles or DJ Elvira). Those 17-18 year old dancers need look no further. Refreshments, not liquor are serve at the social. So by all means come out and play with the rest of us mamboholics.
There can only be one Jimmy Anton's social. Copied by many but never truly duplicated. It ranks a 3 to 4 t-shirt alert. Meaning that you should bring about 3-4 dry t-shirts and a towel (not to mention plenty of water) to stay dry, keep fresh and not disgust your potential dance partners with your perspiration. That's how much dancing you can get in if you want. Cover charge is usually $9.00 (or about $12 if there is a dance group performing that day).

The Best NY DJ's are dancers themselves like
Jimmy Anton

FOR MORE INFO:
-Click here if you want to get more info on Jimmy Anton.
-Click here to read more about Social Dancing


-Click here to verify exact dates for Jimmy's next social over at Steve Shaw's calender of events page

[Main Menu ] [Magazine Home ] [New Articles this month ] [Instructors ] [NY Dance News] [Articles] [Submit an Article] [Calendar of Dance Events]
Best Viewed In Internet Explorer