Maria Torres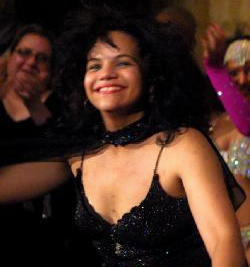 Photo www.MambOn2.com
Instructor Stats:
Articles

Social Dance

Children
Compiled by Manny Siverio
Maria Torres

INSTRUCTOR REVIEW
(posted on SalsaNewYork on 1/01)
Maria Torres is an old school NY mambo instructor who has been a quiet yet powerful force in the local dance community for years. If Eddie Torres is the King of NY style mambo, then Maria, his wife is the Queen. She was performing mambo gigs with Eddie even before Eddie started teaching mambo for a living. You can even say that she is probably Eddie Torres' best kept secret weapon. She has been working with the NY Mambo Grandmaster for much of his career to the point that her name has become synonymous with his (i.e. Eddie and Maria Torres). The two represent the ultimate couple when it comes to NY mambo dance relationships. She has helped Eddie forge a style of dance that is presently enjoying its greatest growth in popularity ever. Her years of experience with Eddie, along with the fact that she currently teaches an average of 4 classes a week makes her one of the most experienced female mambo instructors in all New York. Many top female dancers have gone through Eddie Torres and much of their female mambo styling has come from Maria. She has probably danced at more Tito Puente events than any other person (with the exception of Eddie Torres). Her presence has grace countless stages including Madison Square Garden, Town Hall and The Manhattan Center to name a few. She has traveled across the United States and overseas to perform and teach with Eddie. They say that behind every successful man is a woman, well Maria is that woman. And though she has always been content to remain in the shadows, her recognition as a mambo teacher is long overdue.

Maria Torres teaches her popular mambo class before Eddie's. Usually she fills the ballroom studio to capacity. Those meeting her for the first time will feel the warmth of personality and her smile. Though small in stature, she is a force to be reckoned with. She takes command of the class with an ease that comes only with years of practice and experience.

Open Floor Shines:
Maria teaches all her classes by herself. They are broken into two major segments: Open Floor Shines (solo dancing) and partner work (turn patterns). During the Open Floor Shine segment, she breaks down each shine first by verbal description; then by the count of the clave in both English & Spanish. With a little work, she soon has them performing the shines in unison like an army brigade. Only a few shines are covered in each class, but she breaks them down thoroughly before reviewing other basic steps. Shines are covered one at a time, first to slow music, then to faster music. Maria drills students on getting into and out of each shine and back into the basic step. Students are periodically rotated from front to back so that everyone has a chance at being in front. Maria loves to compliment students on their performance whenever they do something right. She believes in giving people positive re-enforcement.
Important Note:
(Students interested can ask Maria for a sheet containing a list of all the shines being taught in class).
Partner Work:
During the partner work segment, Maria has students pair off and form two circles (one inner circle the other an outer circle). She usually demonstrates one to two turn patterns to the class and begins to break it down a little at a time. During the entire learning process she'll offer beginner partnering tips concerning styling, how to cup hands, connection, spotting, etc. Its interesting to hear her because she tries to provide info to all her students from both a male (leading) point of view and a female (follow) point of view. Students are periodically rotated within each circle so that everyone has the opportunity of practicing with different partners. When the turn pattern has been completed, Maria will choose a couple from within the class to demonstrate the sequence. At the end of the combination, the demonstrating couple will receive a hearty round of applauds from the other students for their performance. This is yet another example of Maria's positive re-enforcement philosophy. Finally, the last 5-10 minutes of each class is dedicated to practicing the new turn patterns to music.

Maria's Style in a nutshell
If I were to compare Maria Torres to other instructors, I would say that she has a very classy and fun style of mambo dancing. She loves to innocently play and flirt with her partner. Those watching her social dance can appreciate her styling (never too much to draw attention, but just enough to compliment her partner). To Maria its all about blending and balancing with her partner. Its like the analogy of the picture and the picture frame. To Maria, the man (the lead) is the one who provides the strength and foundation (picture frame) for the female (the follow) who is in essence the picture. In the long run, one partner should not outshine the other. The woman makes the man look good and visa versa. So if you are looking for a beginner mambo class from someone who help formed the foundation of what is today called "The NY Style of dancing On 2", then Maria Torres may be the instructor for you.

Instructional Videos
(These tapes feature Maria's husband Eddie Torres)

Phone: (718)319-9317
Phone: (646)245-6117
e-mail: MamboKingOn2@yahoo.com
(title emails "Attention to Maria Torres")
Maria is currently available to teach private classes. Those interested should contact her directly to discuss fees and scheduling.
Maria caters mainly to an Adult Mambo student crowd.
Maria Torres


Since classes are given in various locations and are subject to schedule changes, see www.EddieTorres.com for current information.

Contact Maria directly to find out current rates for group classes and privates

Classes are subject to change without notice
it is always a good idea to confirm classes or clubs before heading out
NYC Transit : NYC Public Transit Authority Website which supplies you info on train/bus routes, transportation, etc.

Mapquest.com : Map/direction providing website for those using their own vehicles to get to class location.
Yahoo.com: This is the link to the Yahoo maps starting page. According to Steve Shaw, it may be the better of the two Map websites.
[Main Menu ] [Magazine Home ] [New Articles this month ] [Instructors ]
[NY Dance News] [Articles] [Submit an Article] [Calendar of Dance Events]
Best Viewed In Internet Explorer