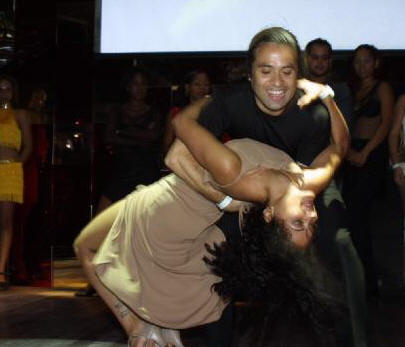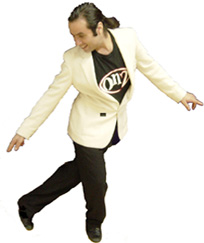 Articles

Social Dance

Studio Directions

Instructional Videos

Children
Compiled by Manny Siverio
Carlos Konig

INSTRUCTOR REVIEW

(Originally posted on SalsaWeb NY pre-1999)

Another of the next generation of mambo Instructors to hit the New York scene is Carlos Konig. Carlos is a graduate student of one of New York's top Mambo instructors; Jimmy Anton. With Jimmy's blessing Carlos begun teaching Mambo over at the 72nd Street Studios in Manhattan's before moving to his current location. Born and raised in Chile, he traveled throughout his native country as a classical guitarist for many years. Wishing to continue his career as a guitarist, he traveled to the United States, but an injury to his right hand cut his career short. While others would have crumbled from such a devastating setback, Carlos forged onward. He transformed his passion as a guitarist to a dancer and in the process discovered the wonderful world of mambo. After only a year of studying Salsa/Mambo, Carlos performed at Madison Square Garden at the Colombian Festival, at the 3rd Congreso Mundial de la Salsa in Puerto Rico, as well as performing in various festivals in the Metro New York Area. In this short amount of time he has choreographed and performed a well received show that has been showcased throughout the New York Area.

I went to visit Carlos while he was teaching his Wednesday night Advanced Intermediate class. Carlos warmly greeted me and invited me to partake of the class. Feeling a little worn out and under the weather, I decided to sit out his session and watch it from the side lines. To tell you the truth I'm glad I took this spectators point of view, because it gave me an interesting perspective of Carlos, his technical skill and his love for teaching Salsa/Mambo.

What can I say, besides the fact that the man loves what he is doing. Its very evident just by the huge smile that comes across his face the moment the music starts and his body starts to move to the beat of the clave. I mean he has one of those grins that stretch from cheek to cheek which would have looked fake on anybody else. But the smile summed up what I feel is Carlos's basic personality: sincere and heart warming. Carlos's very smile becomes contagious because soon the entire class has been infected with it. The man actually makes you feel good as he "tortures" you with an endless barrage of floor shines.

Which brings me to his second character trait....energy!!!!! Carlos is bursting with it. You can see it, feel it and feed off it. Its just as contagious as his smile. These two qualities (smile & energy) together make an unbeatable combination. Carlos transforms a mild manner group of students into a crack unit of mambo dancers in a matter of seconds. Like the energizer battery, the class keeps on going, and going, and going..... Whatever he's having before class, I want some.

In any case, Carlos drills his students with shine, after shine, after shine. He performs each and every move along with the class. He prefers to lead by example. If someone is having trouble with a particular shine, he'll break it down and runs it through for that student.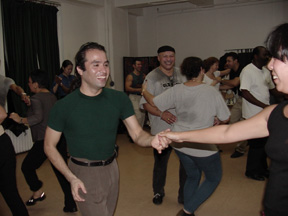 The always smiling NY Mambo instructor Carlos Konig spreading the joy of partner dancing to a classroom full of students. It seems that Carlos contagious smile has already affected his class. Sweating and having fun, isn't that what mambo dancing is all about?
The remainder of the class is dedicated to partner work. Students circle Carlos as he demonstrates each new turn pattern. After breaking down a pattern, two lines of men and women are formed. Everyone begins to practice the combination slowly in order to understand the sequence of steps. This done without music. Carlos rotates the men from partner to partner in order for everyone to get use to the feel of dancing with different people. As soon as everyone grasps the basic understanding of the pattern, he begins to have his students execute the pattern to the timing of the clave and then finally to actual music itself. During this portion of the class, one can see the energetic Carlos jumping in and out of line to help students iron out the kinks in their turn pattern execution (easily playing the role of both the male and female). His love and sincerely for the art of dancing mambo will ease even the most nervous of students. Though Carlos is still fairly new to the arena of Mambo instruction, he is no novice in the field of teaching. He has an impressive record of over sixteen years of experience as a music teacher under his belt.
Carlos's Style in a nutshell:
If I were to compare Carlos to other mambo instructors, I would say that he has a very energetic style of dancing. Due to his musical background, he is able to enhance his dancing with dynamic changes, accents, and syncopations that make it appear as if his body were a musical instrument. Sometimes you can even see him spinning 20 times consecutively. I've been told by several females who have had the pleasure of dancing with Carlos that he is FUN to dance with. His energy spills over to them and they experience a roller coaster type rush with him. So if you like having fun while dancing to your favorite mambo tunes; are energetic and want to learn how to rein in and refine your dancing so that you look like a skilled technician and not a raving lunatic, then Carlos Konig is the mambo instructor for you.
Carlos is currently available to teach private classes. Those interested should contact him directly to discuss fees and scheduling.
Does not specifically cater to children, mainly adults.
Carlos Konig


Ripley-Grier Studios
520 Eighth Avenue, 16th Floor
(Between 36th & 37th Streets)
212-978-0091

As of this date, 8/08. class fees range between $12 & $17 depending on the specific class. Contact Carlos for further details.

Classes are subject to change without notice
it is always a good idea to confirm classes or clubs before heading out
NYC Transit : NYC Public Transit Authority Website which supplies you info on train/bus routes, transportation, etc.

Mapquest.com : Map/direction providing website for those using their own vehicles to get to class location.
Yahoo.com: This is the link to the Yahoo maps starting page. According to Steve Shaw, it may be the better of the two Map websites.