Where To Go - What To Do
Addie-Tude Dance Company Is Auditioning For Female Mambo Dancers On Sunday, November 22nd, 2009, 12:00 Noon - 3:00 PM
The
Addie-tude Dance Company
is one of New York City's top Mambo dance troupes known for their creativity. Their numbers range from traditional salsa/mambo choreography to the very theatrical numbers like
"Hustler"
and "Muneca". Dancers in the company have been original cast members in all runs of the Off-Broadway Mambo Musical
"Latin Madness"
and have performed internationally in
Switzerland
,
London
,
Paris
, Hawaii, Japan, Canada, Hong Kong, Italy and Germany. They have also performed locally at various corporate events.
Open Call: Seeking advanced On 2 dancers with previous on-stage experience. Please respond with picture, resume and any links to your work. Requirements:
Prefer dancers over the age of 18 years.
Participants must be at an advanced level of Mambo dancing "On 2". Have the ability to comfortably pick up choreography at a rapid pace & be prepared to do lifts & tricks; and must be prepared to commit to a 2-3 day rehearsal schedule (Sundays 10a-12:30p & Thursdays 7:30p-10p).
Company members must be able to travel to our rehearsal studio located in the Castle Hill area of the Bronx.
If accepted and after a 2 month trial basis, all team members are required to sign a two year commitment agreement with the Company.
Contact Addie Diaz directly to schedule your time slot - phone 917-215-1720 - email AddieDiaz@earthlink.net - web site www.Addie-Tude.com . The auditions will be held at the Side Street Kids Academy, 1310 Unionport Road (near Westchester Avenue), Bronx, NY 10462.
Asuritmo.com's "Siempre En El Ritmo" Is Looking For Advanced On 2 Dancers To Serve As Principal Dancers For The Team
Frank "Ritmo" Garcia has informed SalsaNewYork that www.Asuritmo.com 's performing team "Siempre En El Ritmo" is looking for advanced On 2 dancers to serve as principle dancers in the professional dance team. Frank has performed locally & at out of town venues in his signature number "La Toalla". See Video Clip 1 and Video Clip 2. He teaches salsa in the NYC metropolitan area; see our Instructor Listing. For the dance team, Frank is looking for principal dancers who will coach the other dancers, assist with choreography and perform at local, nationwide and out of country venues. The position is non-paid to start but will be paid for rehearsal time in January 2009 and some venues will be paid. They should have sufficient time to rehearse and to travel for performances. Please contact Frank for information regarding date of audition. Frank "Ritmo" Garcia - email FrankRitmo@gmail.com , phone 917-744-4239, web site www.asuritmo.com/salsamambo .
The Revelation Dance Company Auditions - Seeking Male And
Female Dancers
Director CC Williams and Co-Director Michael Fielder are looking for multi-talented performers to join their dance team Revelation Dance Company. This dance troupe will be incorporating many different styles of dance primarily focusing on Latin Jazz with On 2 club style mambo. Plans are in action to have a professional entertainment group perform at many different functions and events. If you are interested in being apart of their dance family and join them on in developing this team, contact: cciwilliams1969@yahoo.com , CC Williams 917-446-4822, & Michael Fielder 917-207-1704, www.revelationdancers.com . Dancers with 3+ yrs in dance (jazz, ballet,hip hop, On 2 mambo, etc.) must have knowledge and understanding of dance terminology and musicality.

Pzazz Dance Company Is Auditioning For Two Female Performers
Smiling David, Director of the Pzazz Dance Company & the Broadway Dance School in Newark, NJ, has advised SalsaNewYork that they are looking for 2 female mambo performers to join their dance teams. The Broadway Dance School teaches salsa to children, adolescents & adults in the Ironbound neighborhood of Newark, NJ, & Smiling David is listed in SalsaNewYork's Directory of Mambo Instructors. And the Pzazz Dance Company has performed internationally & locally for several years. For this audition, applicants must be at least 18 years of age & have at least 1 1/2 to 2 years of On 2 classes & be at least at the intermediate level. Skills in other types of dance are a plus, but not required. They must be able to rehearse 3 times per week in New Jersey plus have the time to perform & travel. Anyone interested should contact Smiling David to set up an appointment for an audition. The phone number is 973-3321, email BDDance111@aol.com , web site www.SmilingDavid.com .
Karisma Dance Company Is Auditioning For Male & Female Performers
Instructor & performer Victor Mayovanex, director of the Karisma Dance Studio in New York City & choreographer & director for Karisma Dancers & Imagenes De Karisma, has informed SalsaNewYork that he is auditioning for several male & female dancers for the Imagenes team. Victor performs with the Karisma Dancers professional team and is listed in the SalsaNewYork Instructor Directory. Dancers applying must be 18 - 27 years of age, have at least 1 year of "On 2" classes, be in good physical condition, be able to rehearse 2 times a week in Manhattan, be able to travel to perform & be interested in being trained in the Karisma style. Classes in other types of dance would be helpful, but not necessary, nor is previous stage experience. Audition is by appointment only, so contact Victor at 646-305-3807, email VictorKarisma@aol.com , web site www.KarismaDancers.com .
Mambo Team DulceBembe Is Auditioning For Energetic Professional Female Performers
Performer, choreographer & instructor, Ruby Espinosa , formerly with the Eddie Torres Dancers , Carlos Konig Dancers & other teams, has announced that the mambo performing team DulceBembe is currently auditioning for new female Mambo dancers for upcoming 2006 shows. If you are energetic, sexy & enjoy performing and entertaining all kinds of audiences, you may enjoy being in
. Ladies interested must have solid mambo training, performing experience is a plus but not required.
rehearsals are held in a professional manner. Dancers must be available to rehearsals 2 times a week, must be reliable, punctual, able to quickly learn choreography & have a positive attitude. You must be able & willing to learn different styles of dancing, as guest instructors are occasionally invited to rehearsals. If you are interested in auditioning for
, please contact
, Director, at 212-726-1818, please leave a voice mail with your contact information, or email Ruby
at RubyEspinosa@yahoo.com . Auditions will be held upon request, in a group setting or individually.


Two Studios Offer Programs In Men's Styling
While we frequently see instruction in Lady's Styling, there are very few classes in Men's Styling given in the NYC "On 2" mambo community in spite of the fact that there is a very definite "male style" to this dance & also that there are distinct styling differences in the way men dance. For those men interesting in studying Men's Styling, here are a few opportunities. The Santo Rico Dance Studio has introduced Men's Styling with Teddy Garces, a long-time instructor & performer with the Santo Rico Dance Company. Click on Santo Rico Schedule for information on attending. At another studio, Delille Thomas "Mambo D", long-time instructor & performer in Mambo D & La Mambera Dancers, has a workshop in Men's Styling. Click on Mambo D Men's Styling Workshop for the details. Two other studios also periodically offer Men's Styling classes or workshops: Karisma Dance Studio and also Jai & Candy Dance Studio.
La Salsa De Hoy Studio Is Seeking To Hire An Advanced On 2 Mambo Instructor
Carlos Vazquez, Director of La Salsa De Hoy Dance Studio, has informed SalsaNewYork.com that he is seeking to hire an advanced On 2 mambo instructor to teach two upper level classes in their program. The classes would cover advanced partner work and shines. La Salsa De Hoy Dance Studio teaches children & adults at all levels & is located in the Sunset Park area of Brooklyn - see Yahoo Map. It is directed by Carlos Vazquez, formerly with David Melendez at the Starlite Dance Studio in the Bronx. Anyone interested in being considered as an instructor should contact Carlos at 718-686-0735, email SalsaDeHoy@aol.com , web site www.LaSalsaDeHoy.com .
Karisma Offers Ladies & Men's Styling Classes
NY Mambo Instructor and Director of the Karisma Dance Studio Victor Mayovanex has informed SalsaNewYork that he has opened a New Ladies' & Mens' Styling and Technique class at his Karisma Dance Studio located at Bridge for Dance Studios, 2726 Broadway (104/105 St.), 3rd Floor, New York, NY. The class will be taught every Wednesday from 8:00 pm - 9:15 pm and tuition is $10 per person per class. The Ladies will be taught by Amanda "Estilo" Muncion, while the men will be taught by Victor Mayovanex himself. Those wanting to get more information are encouraged to call Victor at (917)549-2286 or to email him at VictorKarisma@aol.com.
Click here for a complete listing of Karisma's current weekly class schedule.
Mambo's Finest Dance Company Holding Ongoing Auditions For Adult & Youth Professional Teams
NY mambo performer, choreographer & instructor Jorday Rivera , of Jorday's Dance Studio, is holding ongoing auditions for new dancers to be part of both the adult & youth professional dance teams of Mambo's Finest Dance Company. These are not "student teams". Dancers must be able to rehearse at least 2 times per week, take specialized classes, must have basic dance skills with at least 2 years of dancing On 2 knowledge. Knowing hip hop, cha cha, ballet, splits & jazz is also a plus. The adults ages 18 & older should contact Jorday below if interested. The youth ages 5 - 18 should contact Tiffany Rivera below. For those youth without sufficient experience, there is a special Performance Training Class offered at the Studio. The auditions will be held at Jorday's Dance Studio. See www.Jorday.com for address & instructions. For info on the adult auditions, contact Jorday Rivera at 917-749-6475 cell, 718-275-4386 studio, email MambosFinest@aol.com . For info on youth auditions, contact Tiffany Rivera at 917-568-7262 cell, 718-275-4386 studio, email TiffyMambo@aol.com .
Jorday's Dance Studio Seeking To Hire New On 2 Mambo Instructors
NY mambo performer, choreographer & instructor Jorday Rivera is seeking to hire new "On 2" mambo instructors to teach at her Jorday's Dance Studio in Queens in order to expand the classes available for her students. Experience is a must: Instructors must be able to teach beginner, intermediate & advanced students in both partner work and open shines. Those interested can contact Jorday directly at her cell (917)749-6475 or studio 718-275-4386, or email her at jorday@hotmail.com , web site www.Jorday.com .
Caribbean Soul Dance Company Auditioning For New Performers
Iris Ortiz, Manager of the Caribbean Soul Dance Company, has informed SalsaNewYork.com that they are looking for new performers. These dancers would join Caribbean Soul II, which is the student company and a stepping-stone into the main professional Caribbean Soul Dance Company, directed by instructor Ismael Otero. They are looking for both girls & guys who dance mambo On 2, with or without performing experience. For complete information, contact Iris Ortiz at 201-876-1533 or email Mambotero@aol.com .
Salsa News Stories & Happenings
Addie Diaz Begins New Classes in White Plains, New York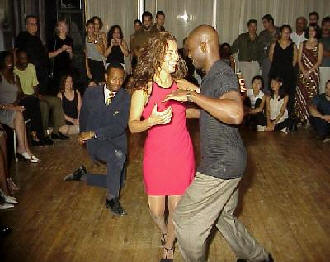 New York Mambo Instructor
Addie Diaz,
who moved to Westchester County a little over two years ago, has announced that she will begin teaching beginner and intermediate Mambo Classes up in the White Plains area of NY this coming March 2008. Addie, who was
the dance company director of the Addie-Tude Dance Company has always been acknowledged for her creative and diversified dance choreography (several of her numbers were featured in the Off-Broadway Mambo Musical: Latin Madness). As an instructor she was always well liked because of her
teaching style
amongst her students. Her years of experience as both a teacher and performer, has provided her with ample opportunity to improve and expand her teaching skills. Not only has she taught here locally but has traveled all over the U.S. (i.e. Los Angeles, Honolulu, Atlanta, Washington DC,) and throughout the world (i.e. Germany, Switzerland, France, Japan, U.K.) to share her unique style of mambo instruction. Addie is one of the instructors who has been reviewed by www.SalsaNewYork.com, and has been the focus of various magazine, newspaper and internet articles. Classes will be held on an 8 Week Cycle Basis and

taught at two locations:

CITY CENTER DANCE, 236 East Post Road, White Plains, NY, 10601, and at the YWCA of White Plains, 515 North Street, White Plains, NY, 10605. For more information regarding class times, tuition, registration dates, early registration discount and free class offer, surf on over to www.Addie-Tude.com or contact Addie directly Cell: 917/215-1720, email: Addie@Addie-Tude.com .
Instructor, Performer, Choreographer & Promoter David Melendez Has Died After Long Battle With Cancer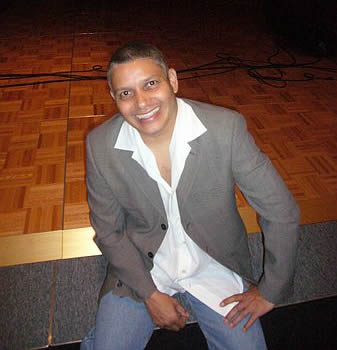 From SalsaNewYork co-hosts Steve Shaw & Manny Siverio: On Thursday, February 8, 2007, the New York/New Jersey mambo community lost one of it's most beloved, important & accomplished members, Mr. David Melendez. Diagnosed several years ago with cancer, David fought his illness and continued to grow the mambo community. He was one of the first instructors reviewed by Manny more than 10 years ago. See his Instructor Review. And see many articles about David in our section on Celebrity Articles. He built the New York Salsa Congress up from scratch to the level of one of the world's most important salsa events today. He created the Children Teen Salsa Congress in Florida. He partnered with local salseros to create congresses in Canada, Boston, Texas & Bermuda. Over the many years, he had created the Starlite Dance Studio for Bronx youth, home of the performers Heartbreak Boyz, Junior Heartbreak Boyz, Fuerza Gigante, The Sweethearts, Heart & Soul, recently establishing a Florida branch of the studio. He also created one of the first salsa cruises & the magazine "Salsa Y Mas". In addition to his own accomplishments, David was an inspiration & role model to the salsa community, encouraging & supporting many to pursue & expand their dancing activities. His attitude of optimism & positive action, even in the face of his serious illness, set an example for those of us who knew him. We at SalsaNewYork, Steve & Manny, will sorely miss David as a great human being & a major force in the NY/NJ mambo community for more than 2 decades. Our condolences go out to his family, students, close friends & co-workers. Click Here to spend a few enjoyable minutes with David on YouTube & more on David & messages from friends & supporters can be seen at David's MySpace Page. Click Here for article in El Diario.
Ruby Espinosa Announces The Opening Of Her New MamboBravo Latin Dance Studio Long-time New York salsa performer, instructor & choreographer Ruby Espinosa has announced the grand opening of her new MamboBravo Latin Dance Studio located in Jackson Heights, Queens, NY. Ruby has worked & studied with the mambo legend, Mr. Eddie Torres. She has danced live at Manhattan's most illustrious venues including Lincoln Center, Madison Square Garden, Manhattan Center & Town Hall. Ruby also shared her artistry with an appreciative worldwide audience, appearing on stage next to the top legends of Latin Music, such as Tito Puente, Celia Cruz, Cachao, Eddie Palmieri, El Gran Combo, Andy Montañez, among many stars. She is currently the director & choreographer of her own dance team DulceBembe. At her studio, she teaches group & private lessons to adults & children in salsa, bachata & merengue, including ladies & men's styling. MamboBravo Latin Dance Studio is located at 37-40 75th Street, Jackson Heights, NY. Phone 917-579-7676. Click on Travel Instructions To Studio.
Yesenia Peralta & Griselle Ponce Open Their New House Of Dance Studio In New Jersey Long-time New Jersey instructors and performers Yesenia Peralta & Griselle Ponce have joined forces after almost a decade of contributing to the local mambo scene and representing NY/NJ On 2 salsa around the world. They have established The House Of Dance, a studio teaching salsa as well as other dances such as cumbia, merengue, bachata, reggaeton, to adults and children, located in Passaic, NJ. Their instructors will include such world famous mambo dancers as Ismael Otero, Candy Mena, Jai Catalano, Irene Otero, Jossue Torres & others, & of course Yesenia & Griselle themselves. For more information about classes & instructors, contact them at 973-685-2624 or see their web site www.TheHouseOfDance.net .
Local Web Site Features Pictures Of NY & NJ Mambo Dancers & Performers Salsero Amir Shimoni, who has performed with Casa De La Salsa Dancers, has the most recent photographic web site www.MamboPics.com. He features photos from several local clubs & socials, focusing on both performers & social dancers, & large prints of the photos can be ordered from the web site. Please check out this web site & its hard working photographer. It is creating the pictorial history of our local "On 2" mambo community. Amir Shimoni is also available to do photographs for individuals & groups.
SalsaNewYork Co-Host Manny Siverio Appears In Music Video
In addition to being a long-time salsa professional & performer in the Addie-Tude Dance Company & Latin Madness, & formerly with the Eddie Torres Dance Company, as well as the co-host of SalsaNewYork.com, Manny Siverio also has careers in martial arts, film & tv acting & stunt work, music videos & writing. See his web site at www.MannySiverio.com for a presentation of his many activities & talents. He has just completed filming a music video in which he plays the part of a boxer in a song by the group Ill Niño called "This Time's For Real". You can see this music video by clicking on Music Video & waiting a bit for it to load onto your computer. With a guy like this on our staff, you can see why no one messes with www.SalsaNewYork.com!
SalsaFrenzy.com Announces Worldwide Directories Of Instructors, DJs, Dancers, Performers - All Salsa Addicts Can Register For Free
The Boston based web site www.SalsaFrenzy.com has pioneered a new global directory of mambo dancers which lists social dancers, performers, instructors, salsa web hosts, DJs, etc. Any salsa dancer or DJ can get a free page on the directory that can include contact info, a picture, a description & a link to a web site. The directory has categories for different styles of salsa & timings (eg. NY style, LA style, On 2, On 1, etc.), for a variety of hobbies & professional interests, & for geographical locations. Members can update their info via the web for immediate changes. This is a free & open resource where you can learn more about dancers in your town as well as find others with similar dance interests when traveling. www.SalsaFrenzy.com links with salsa web sites around the world for up-to-date local information. www.SalsaNewYork.com is proud to be a cross linked cooperating partner with www.SalsaFrenzy.com .
Dancer & Singer Addie Diaz Creates First Ever "On 2" Music Video - "La Bailarina Cantante"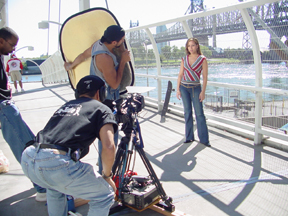 Long time "On 2" performer, instructor & choreographer Addie Diaz is known to many of us in the international mambo community, having performed around the world including in such venues as Madison Square Garden, many salsa congresses & the Off-Broadway dance musical "Latin Madness" . She was the creator of the first "On 2" Ladies Styling Instructional Video teaching our unique New York style of mambo. Now Addie has added singing to her repertoire as a salsa entertainer, fulfilling a long-time dream of combining singing, dancing & choreography all in one professional package. I (Steve Shaw) recently had the pleasure of seeing Addie's new demo music video and it was really impressive. She is singing a salsa song beautifully, surrounded by performers dancing "On 2" to the music, in a pure New York City setting. The video photography & action editing are totally professional & exciting to watch, having been done by movie & TV veteran Manny Siverio, co-host of www.SalsaNewYork.com . This is the first ever singing & dancing "On 2" music video & Addie once again deserves our congratulations for being a pioneer & moving our NY style mambo out into the larger Latin entertainment spotlight. Click on Addie Singer & Dancer for more about our talented fellow salsera, and click on The Making of the Video for the story & pictures behind the scenes.
Several Web Sites Have Video Clips Of Well Known Dancers
Thanks to the wonders of modern internet technology, viewers from all over the world can now view videos of well known dancers social dancing & performing at major events. Here are a few web sites with dance videos:
1. Local New York web site www.IMambo.tv is hosted by fellow salseros Jareau Almeyda, Shaka Brown & Kent Daniel. Every week, they feature several new video clips of local & out of town dancers.
2. New York's On 2 neighbors in Boston have many videos of local & international performers. That web site is www.MamBostOn2.com .
3. "Rose Knows", co-host of Toronto, Canada's excellent salsa web site www.TOSalsa.com , keeps posting new video clips taken of dance couples and teams at various congresses. Click Here to see her videos.
4. Southern California web site www.Salsaloon.com , hosted by Harry Lee & Sarai Farrant, lists quite a number of videos, identified by names of dancers and events. See their Dancers In Action.
If you know of other sites with good mambo video clips, please email us at salsa@nyc.rr.com
MamboBoston's DJ Nik Adds 48 More Full Length Classic Mambo Songs To His Web Page - Now 134 For You To Hear
DJ Nik is an up & coming mambo DJ who is home based in Boston's On 2 community and who also plays at events here in NYC. He is closely affiliated with instructor & performer April Genovese as well as the web site www.MamBostOn2.com. He has posted on his web page the full audio tracks of 134 classic dance songs. For those of you who want to listen to some great music and are sick of La Mega, and for those wishing to build up their salsa collection but can't decide which songs you like best, DJ Nik has done us all a real service. Thanks to the technology of streaming audio, we can listen to these songs in advance and choose which ones we'd like to go to a store to buy on CDs, and he saves us the unpleasant task of having to listen to hours of "pop salsa" on commercial Latin stations in order to find a few good classic dance songs. Click on Nik's Web Page and be sure to scroll down for all the songs. And also see our own SalsaNewYork List of Good Dance Songs.