SALSANEWYORK CYBER-INTERVIEW: LOUIS TIRADO
-by Manny Siverio
Originally published on SalsaNewYork on 9/01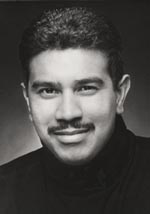 This month we interview NY Mambo Instructor & Performer Louis Tirado. Louis has been part of the New York dance scene for several years now. He is a very low key and down-to-earth instructor who is always smiling and laughing when he dances. He loves to dance and it shows on his face. Like many other of the mambo instructors I've been fortunate enough to meet, Louis truly cares about the quality of his teaching. This will be his second exposure to the internet mambo scene (his SalsaNewYork instructor listing was the first). I'm happy to be the person to re-introduce him to the internet viewing public.
SNY: How long have you been dancing mambo and what got you into it.
LT: I've been dancing for 5 years now. I got into it because I saw that my friends were having such a great time at the clubs and so I figured why couldn't I. I use to love to watch the dancers at the Copa or at parties and how people use to crowd around them to get a glimpse of the chemistry. I found it very exciting and made it my business to learn how to dance.
SNY: Where did you originally learn how to dance mambo and who was (were) your mentors?
LT: I had a cousin teach me the old street style, very basic stuff. Just enough to get me out on the dance floor. That was all I needed. I went to DanceSport and took up Salsa for three months before I notice Jimmy Anton dancing at the Copa. I asked for his card and became his student for about a year. After that I met Carlos Koenig. I studied with Carlos for about 2 ½ years. I definitely hail Carlos as one of my mentors. He took me under his wing, and gave me the confidence to dance the way I want to dance. I've never studied under Eddie Torres but, would love to do so once I get the chance.
SNY: Name your favorite on stage performance.
LT: I don't have a favorite on stage performance. Though I can't wait for everyone to see the new, innovative and exciting numbers that I'll be performing with the Addie-Tude dance company and I feel that when the smoke clears, Addie's name is going to on everyone's lips.
SNY: What is it like to learn a choreographed routine?
LT: It's a lot of fun as well as a lot of hard work. Sometimes it's an opportunity to learn new moves as well as the various stylings that choreographers bring to a routine. But it's all well worth it in the end.
SNY: That is it like to travel as a performer? What do you like best about it?
LT: To travel as a performer is what it's all about. To take your act on the road and show everyone what mambo is all about is one of my primary motivations as a performer. I love seeing new places and meeting people is a great experience as a performer.
SNY: Where have you gone to perform?
LT: I've performed in Berlin, Frankfurt, Miami as well as various venues in New York.
SNY: Name some of your performances?
LT: The Jimmy Anton social of course. the Sandra Cameron Dance Social, Columbia University Latino showcase, 3rd Annual West Coast Salsa Congress, 1st Annual East Coast Salsa Congress and the Sabado Gigante Show to name a few.
SNY: What got you into performing and what was your first time on stage?
LT: I graduated out of the school of the performing arts so I am no stranger to the arts or the stage. But as a mambo dancer I would say that Carlos Koenig got me into performing and was primarily responsible for allowing the opportunity to perform on stage.
SNY: What groups have you performed with?
LT: The Carlos Koenig dancers and now with the Addie-Tude Dance Company.
SNY: What did you feel when you first performed live on stage?
LT: Nervous of course, but exhilaration afterwards. When you've done a good job on stage and the audience recognizes it. There's no feeling that comes close. The applause and the feeling that you get from the audience is a natural high.
SNY: What do you like about being a dance choreographer?
LT: I would love to choreograph a routine, but have not yet done so. As a member of the Addie-Tude dance company, Addie encourages us to provide input to our routines. So I feel I'm in the perfect place to start practicing that skill, because choreography is definitely an art.
SNY: That do you look for in a song when you are putting choreography together for it?
LT: If I were to put together choreography, I would start by looking at the contrasts in the song. The different colors in a song. The ups and downs. Everything in a song that makes you feel something, and from there I would start. Sometimes I start from the middle of the song, sometimes at the very end. Then I work at piecing together the various pieces, till the whole song is done. I know a lot of people who start at the beginning of the song and work their way to the end. But I feel that my method works best for me because I work on the pieces that I feel the most.
SNY: What advice would you give those just getting into mambo? How can they work at getting better at dancing?
LT: For those just getting into mambo I say have a great time. I remember when I first started and everything was so new. It was a lot of fun. Remember to always have fun. Don't make it more than what it is. Find a good teacher, and remember to practice, practice, practice. Sometimes learning about how to hear the clave or learning the count can make some want to stop going to classes because they're unfamiliar concepts. You may have social danced all your life and you may feel that counting may make you mechanical as a dancer. But soon you'll learn to internalize all those things so that so that they become second nature. There are no shortcuts to becoming a great mambo dancer. Some people learn faster than others, but learn with your heart and you'll enjoy it forever.
SNY: How best could you describe your way of dancing? of teaching? And of performing?
LT: I've been described as having a Bronx style, or uptown style. I've studied with only a few people but I've tried to put a lot of myself into my dancing. It's only natural after dancing under someone for a long time that you develop some of their style, so I understand where my style comes from. I appreciate it, and I'm thankful for it. I only hope that eventually someone will say that they derived their style from me. That has to be one of the best compliments you can give a fellow dancer. My teaching style is one of extreme patience. I like to drill my students on a move over and over, till it's second nature. Then perhaps reintroduce the step or turn pattern at a later date or time, just to make sure the student hasn't forgotten it. I love to see them use what they learn every chance they get, because practice is so very important. My ultimate goal is to see them have fun with it. That's what it's all about. The same goes for performing. No one is going to believe you're having fun with a routine if you're not enjoying yourself. When I perform I have the biggest smile on my face because I'm getting the chance to do what I love to do
SNY: Do you still like to go to clubs and dance socially?
LT: Yes, I do. I don't get to go as much as I would like because of my dance commitments as a member of the Addie-Tude dance company and as a teacher. But when I do get the chance to dance socially I love it. It's such a release. It's so strange because I can't stand for more than 10 minutes without my legs getting tired, but I can dance in a club for hours. Plus when you dance socially you get the chance to dance with so many people with so many different styles. It's really a great playground for learning and honing your mambo skills.
SNY: How is New York Mambo Dancing different from mambo dancing in other parts of the country?
LT: New York mambo is so different than in other places. I truly believe that we have the biggest majority of the best mambo dancers in the world. Not to say we have the best dancer in mambo here in New York but we definitely have the majority of the best dancers. I've danced socially in various parts of the country and overseas. I have to say without a doubt with the exception of California, that New York has the most exciting dancers as well, and that's just my opinion. California has some great and exciting dancers as well. They're very flashy and have lots of pizzazz. Very theatrical. I think that everyone overseas is just trying to catch up. But it's all good. We grew up with it so it's understandable. I'm sure if I were learning to Riverdance I'd be trying to catch-up myself.
SNY: Do you think that dancers get treated with respect? If not why?
LT: I've been very fortunate in that I've never been in a position where I was treated unfairly or disrespectful. As far as other dancers are concerned, well, I hope that if they do run into such a position that they handle it with good judgment and integrity.
SNY: What would you like to see happen to mambo within the next few years? Next decade? Within your lifetime.
LT: In the next few years I would like to see maybe a more structured curriculum for beginner and intermediate dancers taking classes. I believe after you've master the basics and the foundation then you should be more than prepared to take advanced classes. A lot of students take advanced classes that shouldn't even be there. And the instructors are allowing it because it's more money in there pockets. But all it does is slow down the progress of other students. In the next ten years probably a more publicized and recognized Salsa Championship. A nationally recognized school and competition. More public awareness. In my lifetime…who knows. I just want everybody to get along, Two dancers, One dancers, Rueda dancers…that's all I want. Is that too much to ask?