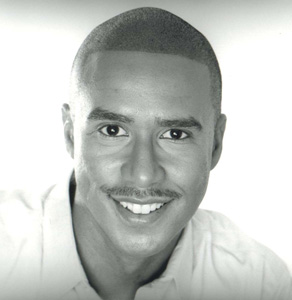 Cyber-Interview of the Month:
Rodney Lopez
-by Manny Siverio
Originally published on SalsaNewYork on 10/02

This Month we interview NY Mambo Performer and Instructor Rodney Lopez. Rodney has been involved in the NY Dance scene for several years where he has been teaching regularly over at Dance Manhattan. He is currently a member of Addie Diaz's Addie-tude Dance Company, has recently been added to SalsaNewYork's Online Directory of On2 Instructors and has the distinction of being a new cast member to the off-Broadway Mambo Musical Latin Madness III.

Cyber-Interview: Rodney Lopez

How long have you been dancing mambo and what got you into it?


I've been dancing salsa/mambo for about seven years. Eleanor Lopez, a longtime friend, introduced me to the New York salsa scene. It was those long nights being a wallflower that finally prompted me to learn how to dance.

Where did you originally learn how to dance mambo and who was (were) your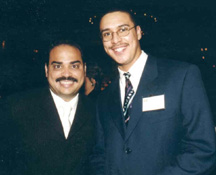 mentors?
Eleanor taught me my first steps, while instructors such as Eddie and Maria Torres, Nelson Flores, and Wilton Beltre were my first "classroom" teachers. I've tried to emulate many of these instructors in my dancing and teaching. I also consider Teddy Kern, Artistic Director of Dance Manhattan, one of my dance mentors.
How long have you been teaching mambo and what made you decide to teach mambo?
I've been teaching for a little over five years. I fell into teaching quite by accident. I was assisting with a group called Sanando through The Arts in the Lower East Side. I got the bug and the rest is history. I've been at Dance Manhattan for about four years.
What do you like most about teaching?
Seeing a student progress from the stage of nervous beginner to competent social dancer. There are fewer things that are more satisfying than that. It's a privilege to be able to contribute to someone's personal development and dance is an important part of many people's lives. It also reminds me of my learning process.
Why do you think people come to learn from you?
I'd like to think that people enjoy my teaching style. I try my best to be as informative and entertaining as possible. While I want my students to become good technical dancers, I want them to have fun too.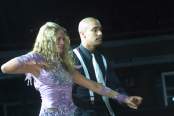 Are most of your students men or women? and why is that?
At one point early on, I had mostly women students. But I teach many more men these days. I think guys have finally realized that one of the best ways to meet women is through dance.

What is the hardest thing you find about teaching?
The hardest thing is coming up with the right material for your classes and teaching it in a way that is enjoyable and interesting. It's also difficult dealing with people who are not at the appropriate class level.
Do you still like to go to clubs and dance socially?
I still enjoy social dancing at clubs and socials, but my teaching schedule often prevents me from going out as much as I'd like.
How about performing? Do you still perform and whom have you performed for or with?
I enjoy performing tremendously. I've had the pleasure of performing with several partners at numerous social and corporate affairs through Dance Manhattan. I've also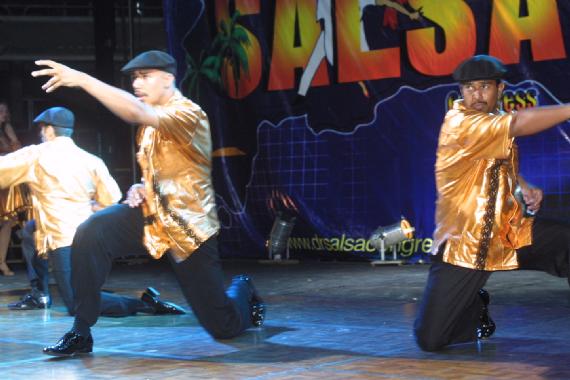 performed extensively with the Addie-Tude Dance Company since joining Addie Diaz's team this year. I also perform quite a bit with Mariana Parma, my Dance Manhattan teaching partner and Brett McNichols, my 'partner-in-crime' at the Addie-Tude Dance
Company.".
Name your favorite on stage performance?
I actually have two favorite salsa performances. I've had the privilege of performing in one of them. Addie-Tude's Muñeca is one of the most creative and technically challenging performances I've seen in any dance style. It is a visual spectacle that retains its New York salsa "street cred." The other is Wilton Beltre's Soneros de Bailadores routine. It is a very musical and exciting piece of choreography, and now that I have the privilege of being a member of the 2002 cast of Latin Madness, I have the opportunity to perform in that number on a regular basis - something I've wanted to do for a long time.
What got you into performing and what was your first time on stage?
I'm kind of a ham, so once I started dancing it was only a matter of time before I would try to put some of the steps on stage. My first salsa performance was for an international culture celebration at my former job in 1996. Eleanor, Negra and I danced to Johnny's Mambo from Dirty Dancing. Nothing is more nerve-wracking than performing in front of your boss and colleagues. Looking back at that choreography is unbearable now.
What did you feel when you first performed live on stage?
Terror, fright and a little nausea.
Have you ever choreographed a routine?
I've had the pleasure of choreographing routines for several student performance teams at Dance Manhattan. I've also choreographed or co-choreographed routines with different dance partners.
What do you like about being a dance choreographer?
Choreography is a rare opportunity to communicate to an audience your own relationship to a piece of music. What starts with an idea in your head becomes a living, breathing expression of performance art. I absolutely love doing it.

What do you look for in a song when you are putting choreography together for it?
I look for a story, a funky groove, and cool breaks. Unlike many routines that I've seen, I don't believe that speed is the most important thing in a dance routine. Nobody cares if you can do a million moves a minute; I believe people appreciate a performance that is musical.
Have you traveled to teach workshops and seminars? If so where have you gone?
To date, all of my dance workshops have been in the New York tri-state area. I'd like to teach in some other areas at some point.
What is the difference between teaching a regular class and special one-shot workshop/seminar?
A one-time seminar requires a different kind of preparation. Since you've only got your students for one or two hours, you want to make sure they leave feeling they've learned something specific – something they can apply to their dancing immediately. In a weekly class, if you don't get something this week, you can always review it next class.
Which gives you the best joy? Teaching, performing or putting together choreography?
Although choreography is fun, it isn't always easy to come up with fresh ideas. Teaching is probably most enjoyable since I see results of some sort every week.
How is it that you prepare yourself for a workshop? and for a performance?
I prepare for a workshop by thinking about my students and their level of dance and trying my best to teach appropriate material. I prepare for a performance by rehearsing as much as I can and remembering that it's important to have a good time on stage.
What advice would you give those just getting into mambo? How can they work at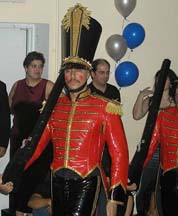 getting better at dancing?
Have fun with the dance, meet and dance with as many people as possible and LISTEN TO THE MUSIC. There's no dance without music so it's important to be as knowledgeable as you can.

How best could you describe your way of dancing? of teaching? and of performing?
My dancing is kind of "goofy funky" – I don't take myself too seriously so I just dance and try to have the best time I can. I do take my teaching seriously and think I have a thoughtful and technical teaching style. I like to explain as much as I can, since that's the way I like to learn. I try to dance as naturally as I can when performing.
How is New York Mambo dancing different from mambo dancing in other parts of the country?
New York salsa/mambo dancers have an almost religious preference for breaking on two. But what's great is that you can find all kinds of salsa dancing in New York because of its history in this city. There's a place to go dancing every night.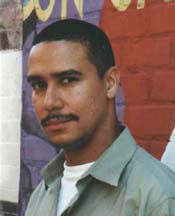 Do you think that dancers get treated with respect? If not why?
I think dancers are getting more of the respect they deserve. Especially since social dancing has re-emerged as an important leisure activity, dancers and dance teachers are getting more props.
What would you like to see happen to mambo within the next few years?, next decade? within your lifetime?
I'd like to see mambo continue to be exported across the world. I'd also like to see a salsa museum in East Harlem or the South Bronx to honor all of the great musicians and dancers that have contributed to this art form.
Click here for Rodney's current contact info.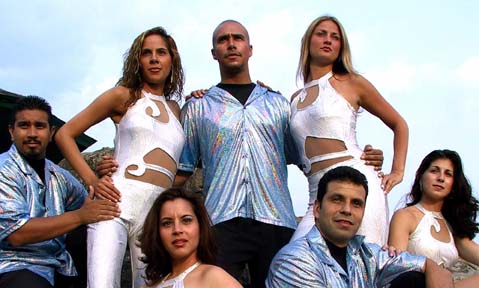 Rodney (center) posing with Addie Diaz and other members of the Addie-tude Dance Company
Photo courtesy of Mambon2.com

[Main Menu ] [Magazine Home ] [New Articles this month ] [Instructors ] [NY Dance News] [Articles]
[Submit an Article] [Calendar of Dance Events]
Best Viewed In Internet Explorer