Compiled by Manny Siverio
Joyce Schembri (formerly known as Joyce Blint)

INSTRUCTOR REVIEW
(Originally posted on SalsaNewYork on 1/02)
Joyce Schembri is another of NY's growing number of female mambo instructors like Maria Torres, Evelyn Ramos and Addie Diaz. Those who know Joyce can tell you that she is a fun loving, easy going person who enjoys her mambo dancing to the max. She is a blast to dance with and can usually be seen tearing up the dance floor at many popular mambo events. Those who have been fortunate enough to social dance with her (including myself) will quickly point out her innocent yet fun playful style of dancing. She loves to look you straight in the eye and make that connection on the dance floor. To Joyce, mambo is the ultimate cooperation, communication and connection between two people when partner dancing. I've had the pleasure of knowing her as far back as 1996 when I started to hang out at Jimmy Anton's Bi-monthly social dance. She has studied with Eddie & Maria Torres. As a dancer she has performed in Hong Kong, Germany, Puerto Rico as well as throughout the NY Tri-State Area. She has been a part of the Carlos Konig Dancers and Las Curvas Peligrosas, performed at the 1999 NY Congreso de La Salsa and had the pleasure of dancing onstage one time for the late great Tito Puente's Latin Jazz Band. She has been teaching for sometime now and I finally had the time to drop by to check out her class.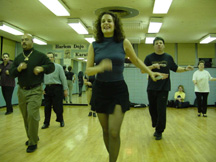 Joyce's mambo classes are geared toward the beginner dancer. Newcomers will quickly feel at ease when taking it for the first time. The environment when walking through the door is a friendly one as if it were an extension of her personality: fun and laid back. The first half of the class is dedicated to open floor shines. She begins by reviewing several of the beginner shines that have been taught to the group in previous weeks before moving onto any new material. The speed in which the material is covered is usually determined by the learning curve of the overall class. Joyce encourages her students to ask questions and not be afraid to point out any problems they may be having with the steps. Each shine is reviewed first to the count of the clave and then executed to music. Joyce even goes as far as to plan ahead which songs she wants to use in class to help her students practice these steps.
After a well deserved water break, Joyce begins the partner work half of the class. Students pick a partner and form a line across the room. She grabs one of the females in class and proceeds to show her group the pattern of the day. During the demonstration she'll provide important partnering tips for both the men (lead) and women (follow). The pattern is first practiced slowly to the verbal count of the clave. After a couple of attempts at the combination, students rotate to a new partner. Joyce, like many mambo instructors use this switching of partners as a refinement tool to help sharpen her student's dance "communication" and "connection" skills. This gives everyone in class the opportunity to practice with different partners. Different partners produce a different "feel" when doing the same turn combination. She also uses this rotation cycle as an opportunity for her to jump from student to student, never once loosing what I like to call her trademark smile and her positive mental attitude. With Joyce the cup is always "half-full" never "half-empty. She's the "Bob the Builder" of the mambo world as she motivates her students by asking them "can we do this?" and they answer by saying "yes we can!" The end result is a group of happy and motivated students spending the last minutes of the class executing the turn pattern do the beat and rhythm of a song.
Joyce's Style in a nutshell
If I were to compare Joyce Schembri to other NY Mambo Instructors, I would say that she has a very playful, fun loving style of mambo dancing. When she dances with someone it's all about "locking eyes" and making the "connection". It's not about who can out-do who, but rather about who can compliment or play off of the other. Mambo dancing to Joyce is not about show-boating, it's about fun, playfulness and feeling sexy. So if you want an instructor that can drill into you a good foundation, instill a positive mental attitude and provide you with the basis for good "partner connection", then maybe Joyce "the builder" Schembri is the instructor for you.
Joyce is currently available to teach private classes. Those interested should contact her directly to discuss fees and scheduling.
Joyce mainly caters to an adult student mambo crowd, but she does accept children ages 9 and up.
Joyce Schembri


Stanley Isaac Beacon Center @ PS 198,
1700 Third Avenue at the corner of 96th Street.

Class Fees/Tuition:
Joyce currently is teaching her mambo class free of charge. You can't go wrong with a price like that. - Manny Siverio

Contact Joyce for further information regarding her class tuition.

Classes are subject to change without notice
it is always a good idea to confirm classes or clubs before heading out
NYC Transit : NYC Public Transit Authority Website which supplies you info on train/bus routes, transportation, etc.

Mapquest.com : Map/direction providing website for those using their own vehicles to get to class location.
Yahoo.com: This is the link to the Yahoo maps starting page. According to Steve Shaw, it may be the better of the two Map websites.